Name: Annika Churchill
From: Winnetka, IL
Grade: 11 (16-17 = senior)
School: North Shore Country Day
Votes: 186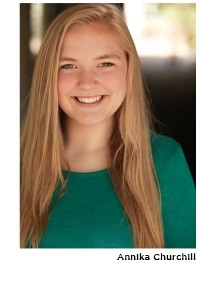 Imagine, being eight years old, going outside to play for recess like any other day. You go to your favorite, the monkey bars, and then all of the sudden you plummet to the ground. Your journey just changed for forever – you are now wheelchair bound for the rest of your life. This is the true story of a remarkable young girl named Elizabeth who I met at the Ronald McDonald House a few short years ago. Her moving story- and the reality that there are many children just like her that need help- is why I got involved with the Ronald McDonald House. Since then I have volunteered about 300 hours a year.
At the house there are many ways to help. I have been in charge of organizing groups to cook meals for the families staying at the house. I got a company I work for that dresses up as Disney characters for parties, to volunteer at the house and give a
performance for the kids. Finally, I am involved with the teen advisory board at the house in Chicago connected to Lurie's children hospital. We are responsible for organizing one activity a month at the house, plus fundraising.
The biggest challenge I have faced as a volunteer of the Ronald McDonald House is awareness of the organization and what it does. Often when we think about sick children in hospitals, our first reaction is to make whatever is wrong, better. And that is an important piece that cannot be overlooked. But the reality is that these "fixes" don't always come fast enough. The houses directly address that issue by giving the families a loving environment to help their terrible situation. It provides the children and their families to focus on getting their child better by handling the details of the here and now with things like prepared meals. At the house are people facing major hardships, but there is always hope in the air. The beautiful optimism of families there taught me that sometimes hope can be the strongest medicine.

But I have also learned that many things in our lives are out of our control and when things don't go as planned, we can get by but sometimes with help from others. I have been so gratified in know that I have been able to make a difference in the
lives of those who don't always have something to look forward to. If I were to come back in 5, 10, 20 years I hope that I made a difference, but with this organization it's hard to know for sure because of medical privacy reasons. But if families feel like the Ronald McDonald House helped them, then I know I mattered. For my future aspirations I want to become an actor which isn't the most conventional way of helping others but I know that art does make a difference on people in this world and I fully intend on being a person to facilitate that.