Name: Christina Hernandez
From: Fontana, California
Grade: 12th
School: Alta Loma High School
Votes: 0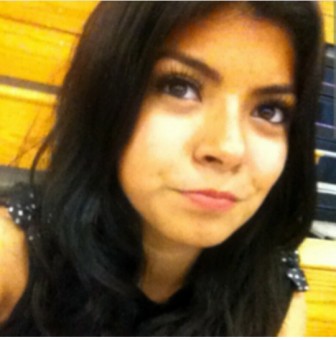 Impacting
Lives by God's Grace, Love, Hope and Happiness
By Christina Hernandez

Ever since I was born, my mother had taught me to have a true relationship with God as a Pentecostal, defining of, relating to, or denoting any of a number of Christian movements and individuals emphasizing baptism in the Holy Spirit, evidence by speaking in tongues, prophecy, healing, and exorcism: worshiping in Christian songs, reading and studying the Holy Bible (King James Version), giving offering, or donating to the church, and evangelizing. My first church was called Ray of Hope Church which started growing in Pomona, California then six years later in Covina, California. In Ray of Hope Church, I had joined the worship team at age six and started singing on Sundays 10-12pm, Wednesdays 7-9pm, and Fridays 7-9pm. I
was mostly involved singing in Ray of Hope Church because my parents were involved in the ministry by preaching the word, sometimes on Sunday, and mostly on Wednesdays and Fridays. I was the fourth singer on stage, and the adviser in choosing three songs to sing in church. On Tuesdays I would visit my pastor's house and practice the three songs I had chosen to sing for Sunday, Wednesday, and Friday. I had sang for five years, serving 40 hours, until Ray of Hope Church
started to close, fore the financial circumstances. Ever since they had left I decided to not sing anymore of the emotional roller coaster I was going through in the process. Six months later during that time, I was introduced to a new church from Rancho Cucamonga, California called Joy Christian Center. I was not involved for one year in that church because of exploring, and getting to know what the church was like. A year after later I was really close to the new pastor which I started to work with cleaning the bathrooms, both women and men restrooms. I had stated cleaning the restrooms because
of the guiltiness of the Pastor's wife cleaning them by herself, fore no one else was willing to step forward in cleaning the
restrooms. I was cleaning them every Sunday after church at 12pm. The total of hours was forty hours from my seven grade year of middle school to beginning of junior year. Throughout working in the janitor facility, I started to get more involved in the children's ministry with my mom in ages 1-5. I had started at age 12 on the second week of Sundays 10-12pm in the schedule that my children's ministry pastor had arranged for me until at age 14 worked upstairs in the building in the elementary ministry at ages 6-10. I was the assistant of the teachers in helping each child with their craft, and set up
the snack table for the children after the lesson. Throughout this process I would also help each child to memorize their scriptures for the lesson to get an overall idea. Most of the time I would interact with the children: talk with them, pray for them, and sometimes sing to them when they make me do it. I impact their lives by receiving results from them that their families are very well from the struggles that they are going through. Throughout working this system I had volunteer myself to work with the sound booth/media system. I was in charge of the slides during the worship team, the offering
scripture, and the CDs for guess speakers on certain Sundays. I had also worked there for 40 hours. In the youth ministry I was the head assistant of choosing events for the youth which we volunteer to work in the convalescent home, evangelizing through apartments in setting up an event of giving free food, and gather around donations of clothing and other supplies in the housing categories, thanksgiving food giveaway, Each event was also 40 hours. I was mostly involved in this church until later this year of 2016 I had left the church for personal reasons. This year of 2016 of August, I was introduced to a new church called Victory Outreach Chino Church. A few months later I was really welcomed that I was involved into their children's ministry. I was working with the disabilities, the 4 year olds, the nursing, and the elementary ministry ages 6-11. I had worked their 10 hours now from Sundays of the second week of the month. I am involving with the children very well. This had helped me interact better with children, and will benefit with me in my major of criminal justice. I can socialize better, and solve problems very easily. I can reach God to children, and it also benefit me to learn and reach God better into looking the word of God to teach to all the children in church. I my work in the law enforcement in the future, I can be a better cop in interacting with people very easily and hopefully reach them with God into a better life choices.