Name: Matthew Knapp
From: Allen Park, Michigan
Grade: Grade 12
School: St. Francis Cabrini High School
Votes: 0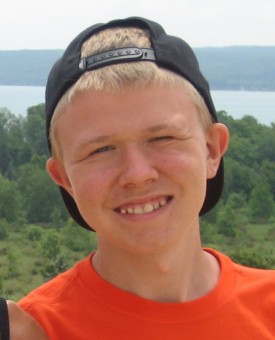 Matthew Knapp #9
Mrs.Keith
English 12 Hour 4
26 November 27,
2016
Importance
of Community Service to Me
Volunteerism to me is donating my time and service to help those around me in need. There are many people less fortunate than myself, so I feel as it is my duty to serve those around me that are in need of help.
Volunteerism means a lot to me and one place I served is Gleaners Food Bank in Detroit, Michigan. Gleaners is an organization that helps the poor by giving them boxes of food with meals that will last their family a week. They also are open to give the poor any clothes they may need. They strive to not make it seem as if they feel superior to the people in need, but that they are one with them and that they are just as loved and valued as anyone else. When I went there I went with my parish youth group and we helped pack food boxes and sorted the clothes that were donated to the organization. When packing the food boxes there was a lot of food and it worked like an assembly line to fill the boxes. Through working as a team, we were able to pack hundreds of food boxes that would feed hundreds of families. Small acts of service can make such a large difference.

            I have attended a Catholic school my entire life, so values of service and the importance for solidarity with the poor have been something that has been instilled in me at a very young age. It is important to be mindful of the needs of others and to do all that is possible to serve those less fortunate than myself. Sacrifice is something that I am called to do and I realize all that I do have. A simple act of kindness like this can so easily change someone's day and mean so much to them.
Another service project I worked on is an event called rake and run that my high school participates in every year. It is a day when a group of students in the fall go and rake leaves in people's yards in nearby neighborhoods of the school. We rake leaves for mostly people that are elderly and cannot do it themselves. It is just nice and simple act of kindness that we are able to take care of their yardwork for free so they do not have to worry about paying large amounts of money for this simple service. Doing this is a way that high school teenagers like myself can say thank you to the elderly of the community for all that they have done throughout their lives.

Community Service has become a large part of my life and it is something that is done for the benefit of other people, but I also
get great joy and satisfaction out of it in the process. It is so important to serve and care for those around us in our communities that are in need.