Name: Alec Worrell
From: East Flat Rock, NC
Grade: 11th (2015-2016) 12th (2016-2017)
School: East Henderson High
Votes: 90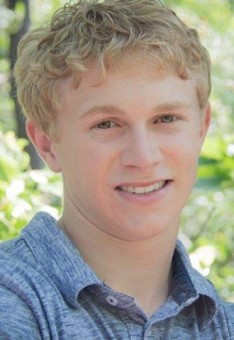 I have been involved in scouting since first grade and have recently
achieved the rank of Eagle Scout. Throughout scouting I learned first
aid, communication, and leadership skills. Above all scouting has
taught me the importance of civic duty and given me the opportunity
to give back to the community in order to make it a better place.
As a scout I was voted by my peers to be inducted into the Order of The
Arrow. To be inducted into the OA, scouts must spend one night on the
trail secluded from everyone with nothing but a sleeping bag and a
tarp. The next morning we participated in a service project for the
camp and had to take a vow of silence for the whole day until the
assigned tasks were completed. From this experience I learned that
setting personal goals on behalf of others can inspire us to
incredible things and it is one reason I made the commitment to
become an Eagle scout.
To reach the rank of Eagle a scout must complete 22 Eagle required merit
badges that teach valuable skills that will be used through one's
life. One must go through five ranks demonstrating the scout law and
oath. One of the biggest challenges to becoming Eagle is creating and
overseeing a service project that has been approved by the National
Scouting Committee. My Eagle project was to build a set of three
storage closets for the Hendersonville Presbyterian Church to help
them with organization for Operation Christmas Child. The closests
provide shelving and a place to organize donations. The closets
helped the people running this mission by allowing them to
efficiently send gifts to children around the world providing toys,
clothing, and common hygiene products.
This project required me to fundraise, create plans to build the closets
with shelving, schedule the work days and coordinate getting the
materials to the work site. In total it took me five months to
complete. I had to ask businesses to help me with materials, schedule
workers, and get the proper craftsmen to help complete this project.

My favorite part about scouting is the friends I have gained throughout
the years and all the many experiences. I was be able to work with
many guys who also conducted their Eagle projects through my years of
scouting. This allowed me to get to know them and form an even
greater bond. Some of the scouts I have helped in the past came back
to help with my Eagle project even though they had aged out at 18.
With my experience of helping with many community service projects and
conducting my own project I would like to work within and beyond my
community and my current network that I have established in order to
determine a worthy cause that will improve the lives of many. I enjoy
volunteering and the reward of helping people in need while at the
same time learning what these individuals themselves contribute to
their communities.