Name: Jordyn Haley McMullen
From: Smithton, MO
Grade: 11th
School: Smithton R-VI
Votes: 0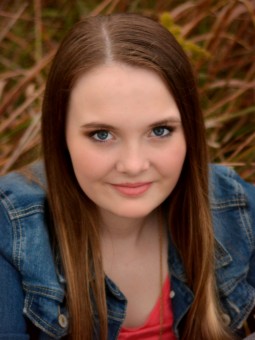 Jordyn
McMullen
Youth
Forward Scholarship 2016
It
is Not About Reputation
As a young adult, I have realized life is hard to handle. Everything from
school, work, friends, and family. Yet, I have also realized there is
a need to volunteer. Not just because not enough people do, but
because it is a necessity to help balance out life. The need to give
back to our communities, to impact either a single life or multiple
lives. Volunteering is vital to our overall health and well-being.
I have volunteered at my local nursing home, at my school, and at my local
animal shelter. I also volunteer through my youth group. At my local
nursing home I come in, set up tables and chairs, and then help
escort residents down to the family room, where we play a
predetermined card game. I help teach new residents the card games as
well as help them reach the cards. I also make about three trips to
the ice machine each night to get them ice to chew on! At my school,
I help tutor Boys and Girls Club after school. I also volunteer in
the concession stands as well as helping referee volleyball
tournaments for younger grades. At my local animal shelter, I
volunteer by walking and exercising the dogs. I spend about eight
hours a week volunteering my time.
Volunteering is not always the easiest thing. Many times, I have showed up to my
local nursing home and there is a familiar face missing. At the
animal shelter many dogs I became attached to get adopted.
Volunteering also isn't easy because time is our enemy. From
balancing my mental, physical and emotion health, to finishing
homework and chores, it feels like I never get to take a breather.
Although, volunteering is not always easy, it is always worth it. From bringing
that resident her second cup of ice, or helping her reach that card,
to helping exert a dogs' pent up energy, even to helping run a
concession stand. These small acts of kindness bring joy, laughter,
and smiles. The satisfaction of hearing someone say thank you is
always worth it.
My future career will be in nursing, so volunteering at my local nursing home greatly
enhances my love for the career. I am currently a Certified Nurses'
Assistant already, and am looking towards applying to a nursing home.
This is "forward looking" to me because the administration knows
me from volunteering, which is an advantage to getting a job there. I
also plan on being a foster for dogs when I have a house so
volunteering at the local animal shelter gives me insight on caring
for them.

Although volunteering helps, it is not about bettering your
reputation. Volunteering is about the impact you leave on people's
lives. Which I believe five years later, those residents are still
going to be as happy to see me, as I am to see them. It was never
about me, but always about helping others.