Name: Stephanie Rose Almodovar
From: Bronx, NY
Grade: 11th Grade
School: Hyde Leadership Charter School
Votes: 0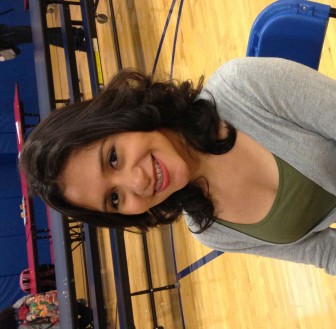 I dedicate myself to not just my community but to others in my borough. I found my motivation when I was 6 years old. This motivation has made me into the strong dedicated leader I am today. I started out in my church; Love, Power, and Grace (LPG). I still commit myself to my church but also within nonprofit organizations, working at an activist museum and school clubs. The Point CDC, Community Action for Safe Apartments, The Bronx Museum of Arts and United Nations Committee.
Growing up in LPG, I hadn't realized, as I developed a relationship with God, I developed a great interest in community service. I started out performing at religious concerts, singing during services then finally promoting and organizing communal activities. Toy Drives, Thanksgiving Potlucks, Summer festivals and so much more. We would organize these events during Sunday school and school breaks, from 2:30pm to 6:00pm. These activities are important to me because this demonstrates, the church can not only fulfill a spiritual need but also social needs. I was only 6 when I thought this was an obligation. Participating and organizing events. I am now 17, am within our youth ministries committee. I know now that it isn't an obligation but I enjoy seeing the gratefulness and thankfulness in people's faces. This is what continues to motivate me in communities.
I then became involved with The Point by ACTION, a teen activist group. Activist Coming To Inform Our Community. We would meet Monday, Wednesday and Fridays from 4:30pm- 7:00pm. My group advocates for policy changes to address the many social and environmental injustices. The neighborhood I live and go to school in, has the highest asthma rate in the US. Every day 10,000 trucks commute in and out of the neighborhood, using local streets, going to the food distribution center. I help create awareness by flyering, door knocking, organize social events and promoting them on social medias such as Snapchat, Instagram, and Facebook. Not only was I involved with ACTION my sophomore year, being the secretary but my junior year as well, being the president. During my junior year, many people had left; personal reasons. It was time to open the floor to new students. I had recruited up to 12 students, less than a month from my school. 9th-12th grade. I must say it was not easy. In moments where it was most difficult I would give scenarios of the social injustices, having students think and "get in their feelings" about what they could do to provide change.
ACTION is an academic year round program, thus I applied for the Bronx Civics Scholars Institute and became a summer intern at CASA, Community Action for Safe Apartments. A nonprofit organization working to inform tenants of their rights and of free legal services accumulating 60+ hours of community service from Monday to Thursday 12:30pm to 4:00pm. One encounter I had was with a woman who was bed-bound suffering from pneumonia. She developed this illness because of the lack of heat provided to her during the past winter. Connecting to the woman and her son that day has enabled me to open my eyes to situations other families may be going through.
After the summer had passed and my internship was over, I was on the hunt again for another communal opportunity to not only expand my knowledge in social justice but to other unknowns in my neighborhood. I came across Teen Council at the Bronx Museum of Art. Teen Council is an art program; showcasing art and culture in The Bronx through community events that meets Mondays and Wednesdays from 4:30pm to 6:30pm. It's only been the beginning, starting in October, but I have received so much recognition for my devotion towards promoting the Teen Council program, Teen Council Comicbook program and High School opening exhibits.
Although I contribute to my communities through these organizations I am now giving back through a personal project. The project is to open up a "Free Little Library". I'm establishing one little library near my middle school because it will encourage kids to explore different genres and books they may not have access to in school. I'm not doing this alone, I'm getting support from the United Nations
Committee at my school. We meet every Tuesday during our lunch hour.
These communal activities have helped me grow, not only in knowledge but mostly in leadership. Improving my leadership skills has pushed my confidence and my courage. I found my motivation by witnessing the gratefulness and thankfulness on community residents faces. This has demonstrated to me that the greater reward is putting others first.