Name: Olivia Julianna Trejo
From: Gulf Breeze, FL
Grade: 11th (2016-2017 school year- High School senior)
School: Gulf Breeze High School
Votes: 0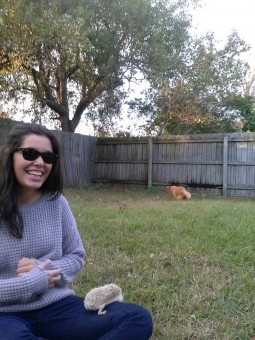 It
Takes A Servant
"Volunteers are not paid, not because they are worthless, but because they are  priceless"-Unknown.
Volunteering is a sign of appreciation to yourself and your community. I grew passionately for serving once I started going to Momentum church in Gulf Breeze. I have done many service projects in my life such as mission trips, vacation bible school, helping in nursing homes, but my all time favorite was serving on the production team at Momentum where I run the presentation playlist (graphics) on Sunday mornings. My position is crucial because I am in charge of putting scripture up on the screens as well as song lyrics, videos, and pictures Too.
I discovered Momentum through my sister, who was introduced by her friend, Brandon. My sister programs and runs the light shows at church and after about two months of serving and non stop nagging from her to get me to join, I finally decided to give it a go, mainly so she would just get off my case about it. The very first time I went to Momentum I knew something about this church was different. The atmosphere was filled with joy and everyone who was there wanted to be there, not because they had to. I was plugged in immediately and knew instantly that this was the place I wanted to call home.
Serving at this church has changed my life for the better. As much as I love serving, it was definitely a challenge to learn more about my position and finding time to dedicate fully to this team. Dedication and serving with a full heart is the key. Momentum is a portable church.
We set up and tear down at Gulf Breeze Middle school. Although the church keeps praying for a building we can call our own, we never lose sight of how thankful we are to be able to see the transformation of a school cafeteria to a church that changes lives drastically. We get up at 4 AM to get to the school to set up God's house. Although getting up early (especially when you didn't receive much sleep the night before) is tough, we must be reminded that we are doing what we do for the sake of others and to see lives change. We don't get up early and serve because we have to do this, we do what we do because we get to do it.
Not many people can say they have seen life changing experiences, lucky for me, I get to see it every Sunday that I serve. The power of this community is so strong and it's an absolute honor to get to do what I love every week alongside with other people who love it just as much as I do.