Name: Bennie Hue Allen
From: Ventura, CA
Grade: College Sophomore
School: Ventura College
Votes: 0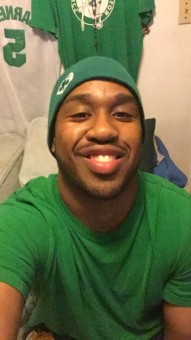 Bennie
Allen
It's
a "Passion"
After graduating high school in 2014, I did not know what I had planned for that summer. I was just preparing to get ready for college and let it lead me to my future. Before my graduation day, my counselor had called me into his office. My first instinct was that I was in
trouble, but that was not the case. He asked me, "Hey I'm starting a club basketball team in Ventura. I'm looking for some help. I was wondering if you and your brother could help me out." At first I thought about it and said to myself: "Well it would not hurt to give back my knowledge of basketball and earn some community service hours," so I said: "Yeah, I'll do it". Since I knew that I would not be getting paid for this, I did not let that play a role in my decision. I chose this, since I had a fairly good knowledge of the sport of basketball and pass down my knowledge with these junior high kids.
Currently, I am in my second year as Assistant Coach for "C" Street Hoops, along with my brother and Head Coach Jason Sierra. I am grateful for this opportunity, since I get to do what I love and that is to watch these kids play the sport I grew up on. I spend just about the Fall and Winter times; September through December, helping and mentoring these young kids into solid basketball players. My brother and I serve as mentors to these young men, guiding them in the right path of success. We spend about two days a week and about a 2 hours a day with these young men. My role is more on the defensive side of the ball, teaching these kids a few tricks, how to play one-on-one defense and how to react when the ball is moved around.
One challenge that I faced out of high school was being able to use my voice, and get on these kids about their mistakes. I am not a fan of yelling, but I endorse encouragement and motivation. After doing this for awhile, I started to speak up and take on more of the coaching aspect. It took a little motivation and drive from within myself and others to be able to do this. Throughout my career of playing this sport, I never liked to yell or get on my teammates for their mistakes. Instead, I was the quiet guy on the floor and let my
actions speak for themselves. Now I feel more confidence in being able to get the best out of my players.
Being a former player myself, I love to see kids perform at their best. It gives me great honor and passion to see these kids play hard each and every game, reminding myself of how I used to play my career. Basketball is my favorite sport and getting to sit back and watch them perform gives me a sense of relief, knowing my time of playing this sport competitively is over.
My overall dream goal is to be a personal trainer or a strength and conditioning coach, so the term "forward looking" to me means
that I have opened up a door to career path that I want to pursue. Being a coach allows me to push others harder than they ever have
been pushed. I do not like yelling, but I will push my client or players to keep pushing and do not give up. Now that I have been able
to gain some experience as a coach, I able to use what I know and lead it on to my future, wherever I go.

Being a volunteer has certainly opened my eyes up. As a former athlete, I know what to expect from a coach. As a volunteer, the "volunteer" aspect allows others to experience what it is like to help out others, without receiving anything back in return. Just knowing that you helped that person out is a rewarding experience in my opinion, and I am touched by those who I have helped out within this sport. I want to be able to look back at my volunteer duties, and say: "I coached that player. I remember he did not how to dribble or shoot a ball, but now he or she is playing high school varsity basketball as a freshman. Nothing beats that experience. It's a passion that can never be broken, and I will continue to help out others anyway I can.