Name: Nicole Bryson
From: Miami, FL
Grade: 11th
School: Terra Environmental Research Institute
Votes: 164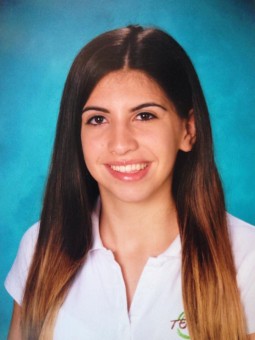 Volunteering at The Gymnastics Academy honestly did not feel as if I were volunteering. I felt at home there. I began in 8th grade although I only began recording my hours until Freshman Year. I myself was an athlete there. I saw an opportunity and took it. I inspired myself to volunteer there as I wanted to help others around me. I felt this was important due to the many people who have helped me throughout my life. I took the initiative to get involved when I realized that I could make a difference in children's lives.
Many peoples wonder how much work I put into this. Almost every weekday after school of freshman and sophomore year I would go to The Gymnastics Academy until 8:00 pm. I practically worked a part-time job. My work consisted of teaching kids the rudimentary skills of gymnastics, how to treat yourself and others with respect, and tutoring and homework help for children K-5th grade. I sacrificed being able to join clubs and sports such as bowling and softball my first two years of high school. I still do community service here but only on weekends and teacher planning days. I did not recruit and others or any other national organizations. The most difficult part of my project was being capable of relating to the small children and in receiving their trust.
I accomplished many things in these past two years of volunteering. Out of all of them my favorite was being capable of working with kids and teaching things I wish were taught to me that I didn't have to learn by myself. I taught kids to respect others their age. Both the kids and I benefited from this project. The kids learned morals and the importance of exercise while I learned how to care for children and talk to them. I learned the basics of child care and child health. At The Gymnastics Academy, I was the only volunteer with 3 employees and the owner. My project will extend into the future as I hope to continue volunteering and working with this company.

To me my volunteer work was not only just for the hours. I got a second home. I got a second family with the staff and children at The
Gymnastics Academy. I learned that many children did not realize how important it is to make new friends, care for the ones you have, and stay healthy and educated. I acquired many new skills from learning how to do a back handspring just to impress the kids, speaking to parents and explaining them the importance of child fitness, child care experience, and tutoring experience. The one thing I will never
forget from my volunteer work has to be the smile on the kids' faces, the hugs they shared, the games we played, and the A's they
received on their report cards. One moment in my entire volunteer experience that I will keep with me forever are all the laughs and
tears the children got when they learned a new gymnastics skill. The joy on their faces is the joy I will have for the rest of my life.
Without a doubt I will always tell other people about my experience volunteering at The Gymnastics Academy because it has been honestly the best years of my life. I would tell them to always aspire for their dreams. Find a volunteer job that relates to something you want to do in the future. I chose working with children because I dream to be a Pediatric Surgeon. I would tell them that if they always wanted a smile on their face to volunteer here. You learn a wide variety of things from health, child care, and physical education.