Name: Ellecse Logan
From: Riverside, CA - California
Grade: 11
School: Martin Luther King Jr High School
Votes: 131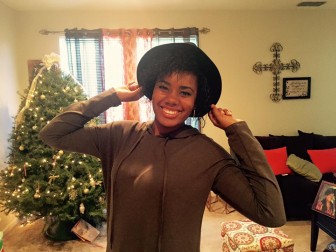 I volunteer for three different organizations, but the one I am most
proud of is the service I do under my high school's Black Student
Union (BSU). Most of our work is done for the less fortunate, an area
that I feel I am making the most change in. Since middle school I
have felt a deep tie to the needy, and to serve them now is something
I take great pride in.
BSU works to make change in the lives of many needy families once a
month. The hours vary depending on the range of the project we
are working on. In November I spent 15 hours collecting food
donations outside of grocery stores, preparing bags of food for needy
families, and distributing them at Fairhousing Council of Riverside
County a few days before the Thanksgiving holiday. For the month of
December, we will be "adopting" children of less fortunate
families and getting them the toys and clothes that they want and
need for Christmas.
I am very thankful to have the opportunity to do what I have been
interested in since middle school, make a difference in people's
lives. However, it took a bit of "coming out of my shell" to get
where I am today. When I was young I was quiet, but I said steadily
grew more social as I aged. Despite this, I felt a regression to my
youth as I stood outside of the grocery store facing strangers and
rejection as a pleaded them to listen and donate. Within an hour of
asking people to donate, I began to feel more confident, especially
when people came out of the store and gave to us the food they bought
to donate. Once again, I was filled with a sense of pride at the
change I was making.

My work with BSU has been" forward looking" in that we make a
difference in the lives of the needy so that their future is even
slightly more possible. To me, "forward looking" is about making
long-lasting change, and the annual efforts of BSU promote a
long-lasting sense of humanity and community. Years down the road I
do believe I will have made a difference, because the children
affected by our work will remember our efforts, which will inside
them to do the same. I believe in spreading good by doing good, and
this is exactly what BSU does.
My career goals are not set in stone, but through my work with BSU, I
have felt a strong desire to find a way to make a living out of
helping the homeless. I have often been told that the job I want
probably has not yet been invented, and if I could make a living out
of doing what I love the most, then I will gladly invent that job.