Name: David Ernest Noble
From: San Antonio, Texas
Grade: 11
School: Clark High Shool
Votes: 0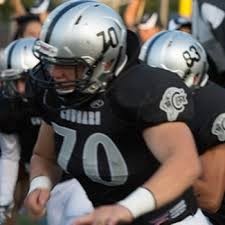 Let
Me Tell You about Myself
In attending Tom C. Clark high school, one can expect to find many aspiring students; those who are artistic, creative, intelligent, and athletic, all diligently working towards their goals. However, the most celebrated phenomenon that occur within the school body, are the emotions that take place on the field, within the sport that evokes the most abrupt amount of excitement: football. Walking in as a freshman, there was nothing I aspired towards more than being part of the Clark Cougars football team; and little did I know that I'd grow into the starting lineman that I am today. Now that I'm nearing my senior year of high school, I realize that I wish to continue my dream, and play college ball and I'd stop at nothing to achieve my goal. 
My name is David Noble, I'm a student-athlete at Tom C. Clark high school, and this spring I was allotted a place on the varsity football team as an offensive lineman. I started playing football when I was 11 years old, and have been heavily involved in the sport since then. Football has influenced me to be better in and outside of school, and has made me better as a whole. I feel as though football is my life, and there's nothing I enjoy more. 
Academically, I'm an A to high B student who knows how to manage between work and play, and finds ways to constantly stay involved. Clark offers a mentoring program for the kids attending Locke Hill elementary school, in which I've been a role model for many children who look up to me, and view me as someone to emulate. One of my favorite hobbies is watching sport documentaries about inspiring athletes who have worked hard to achieve their goals. I hope that one day thousands of determined athletes can watch a film about me and, afterwards feel inspired and motivated to try their best.
Although my days as a varsity athlete have just started, my high school experience is almost coming to an end. That's why I need to prepare myself for the next level, mentally and physically. I understand that college football is a whole different level than high school football and I will do anything and everything to get there. I believe that I can succeed in not only getting there but also graduating college as a student-athlete.