Name: Rosemary Demarco
From: Louisville, KENTUCKY
Grade: High School Senior
School: Hunter College
Votes: 0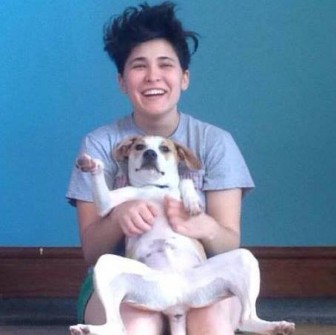 For the past three years, I have worked as a Peer Educator at The Planned Parenthood of Kentucky and Indiana. Many high schools and adolescent organizations in my hometown of Louisville don't prioritize sexual health in their academic programs — and it shows. Kentucky has the seventh highest teen pregnancy rate, and the sex education curriculum only mandates the mention of abstinence as protection. I have met too many people who don't know about their own bodies and their rights. In addition to this, there are people fighting for their right to use the bathroom they choose, and forced into supportive living after being kicked out of their homes because of their sexual orientation.
There is an imperceptible population of young people who don't receive the support and education they need on basic healthcare andsexual health because they aren't given the tools to learn or ask questions. This is why my role as an educator, a peer, and a mentor at Planned Parenthood is the most gratifying and meaningful part of my life.
As a peer educator, I learn a variety of information, ranging from social justice to complex anatomy. Using my knowledge, I teach classes on healthy relationships and basic sexual health at my high school, and other schools and adolescent programs in the area. I've become more involved with my community's LGBT+ organizations, and met
incredible people along the way. These experiences have not only given me a stronger foundation to build an understanding of important issues surrounding social justice and equality, but it's also helped me become a better ally. Being an advocate for equal rights and representation means being firm in what you believe in and not discounting opinions different from your own. I have met plenty of people who disagree with what I fight for, but their opinions are what contribute to the ongoing conversation about sexual and reproductive justice. One of the most valuable things I have learned is how to create a dialogue using different perspectives — and not discounting them solely because they are a point of contention. These
encounters I've had, in both academic and social settings, have been profoundly influential on how I view the world.
Whether talking to people with different opinions than me, teaching classes at a high school that is vastly different from my own, or marching in an LGBT+ pride parade, I've learned how powerful the smallest exchanges and interactions can be — and how they make a difference. As someone who is fortunate enough to receive an education and communication skills that help me stand up for myself and what I believe in, it's my job to share what I know with my peers. This
experience evolved from a 4 hour a-week dedication into a fundamental habit. The feeling of making a difference in my friend's lives, my community, or local government, is what has made my time at Planned Parenthood the most transformative and important thing I have ever been a part of.