Name: Christian Ivey
From: Orange Park, FL
Grade: 12th/Senior
School: Clay Virtual Academy
Votes: 0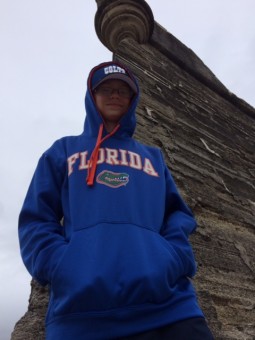 I chose to volunteer at my local library in Fleming Island, Florida,
and I did so for a number of reasons. The library is a great place;
it allows the people in a community to read books for free, it often
sponsors free community events, such as summer reading programs or
parties, and it grants people access to materials that they might
need but not otherwise have access to, such as computers. I
volunteered at my local library for two days every week and worked
three hours each day for over a year; I also often volunteered to
work extra hours when more help was needed. As a volunteer, I was
primarily responsible for shelving returned materials, assisting
patrons in need, and participating in the setup, cleanup, and
operation of various events held at the library. Sometimes the work
was challenging, but I did it gladly; the library is a wonderful
public resource that is completely free to us, and the concept that
we can give back to it by volunteering is wonderful.
Perhaps the most challenging aspect of being a volunteer was dealing with
rude or angry patrons; when people are angry and take it out on you,
it can be challenging to just let it roll off your back. It was
tempting to think that since I did not actually work at the library,
since I was just a volunteer and did not have anything to lose by
losing my job, that I could be rude back; but this was simply not
true. The biggest challenge I faced as a volunteer was choking back
the offensive things I wanted to stay to certain patrons and instead
pasting a smile on my face and being helpful. Not only was this skill
helpful at the library, but I also found it useful later on life as I
began working for pay and met people that I did not always agree
with.
While volunteering at the library could be challenging at times, it also
had its rewards. To me, there was nothing more satisfying than making
a patron happy by helping them find a book, telling them a good joke,
or just holding a door open to be polite. This volunteer position has
taught me to have patience with people and to always go out of my way
to be helpful and kind, because even a small act of kindness can
really make someone happy. Looking forward, I see this experience
helping me even more; volunteer experience looks excellent on a
resume for college or a job. I believe that my volunteer work will
have made a difference in the future, because it serves as an example
to others. I chose to volunteer at my local library because it is a
great place. It is constantly giving to the community, and it felt
good to be able to give back; even just a few hours a week can make a
huge difference.