Name: Gabrielle Rene'e Bird
From: Idaho Falls, Idaho
Grade: 12th
School: Hillcrest High School
Votes: 0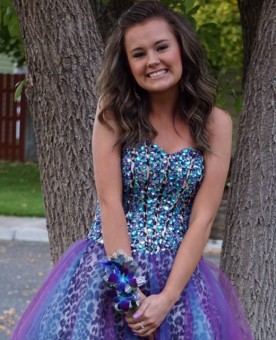 Gabrielle
Bird
Oct.
9, 2016
Little
Dancer's
Overthe last few years I have been volunteering as a dance coach for ages four and up called, "Jr. Knightline." This program starts in October and goes until May each year. This program is for kids to learn the basic techniques of dancing, learn two or more dances, and perform the dances at our high school basketball halftimes. The purpose behind Jr. Knightline is so the kids can gain better dance experience and to further themselves in the knowledge of dance. Volunteering for this program has changed my life.
Spending every Wednesday night with these cute kids was the best thing. I spent an hour every week leading basic stretches, proper technique, and teaching them choreography. I came in an hour before to choreograph the dance to teach. I have been volunteering for Jr. Knightline for 3 years, spending at least 50 hours a year volunteering teaching the dance group and getting them prepared for
their performances. It was a great experience.
My responsibilities as a volunteer were to provide the best possible and age-appropriate skills such as movement, music, technique, and choreography. I offered challenges that would raise them to another level of dancing. As a leader of the dance group I was responsible to show up on time and come prepared with all the material needed. Having and doing these responsibilities were important because I wanted each kid I taught to see me as a role model.
The biggest challenge as a volunteer was trying to control all of the kids at once and finding different ways to keep them paying
attention. It was hard at first when the program started because they didn't know what to expect, but when they learned the rules and
knew we only had a certain amount of time to get stuff done they would pay attention and push through it as a team. I would get
frustrated when they didn't listen, but then it got easier because I gained their respect.
The thing that has given me the most satisfaction is seeing the little dancer's progress and become better with their technique. I loved seeing the kids getting better each week.. I have learned that by volunteering for something you love doing can make a difference. Just by volunteering your time and help, it can help people become better and teach them something new each time.
When looking towards my future I see my activities making me become a better leader and influencing the people around me. What the word "forward looking" means to me is how someone is going to grow up to be. I hope that by what I volunteered for I changed the kids I taught into better dancers. If I were to come back in ten years I feel like my volunteer activity would have made a change to the dancers by having them grow up and become successful dancers and having full confidence in what they are doing.