Name: Rosa Betancourt
From: Houston , Tx
Grade: 12
School: MacArthur High School
Votes: 1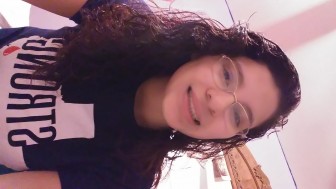 Love
and Support Can Make A Difference!
          I have had many chances to volunteer through school as well as through
friends who work for organizations. Although all of these experiences
were great, the ones I have come to cherish and learn from the most
are volunteering with Peace Camp and Camp Allen. Prior to working for
these two camps, I was a camper myself for several years and loved my
experience due to all the love and support I received from my
counselors.
I attended Peace Camp for seven years and decided to give back by
volunteering as a counselor in training for two weeks of the summer
for four years; where we helped out the children with different
activities designed to teach them peacemaking and give them exposures
to different cultures and religions. My biggest challenge
volunteering at Peace Camp was keeping the five to twelve year olds
under control long enough for them to listen to the different
speakers and their stories. I loved every moment with the children,
and, although I was still young, they looked up to me and the other
staff members. They gave us a great deal of respect and taught me how
to be a better leader.
            Camp Allen holds a session called Camp Good News, where children who have
a family member incarcerated are offered the chance to participate in
fun activities, such as swimming and horseback riding, while growing
spiritually. I was a camper for two years and my first time there was
great due to all the encouragement and excitement I received from my
counselors and other staff members. I chose to volunteer as a cabin
counselor for the past two years, where all of the staff including
myself was on duty twenty four hours for a week during the summer.
Some of the responsibilities were to keep the campers safe and
engaging them even if they were reluctant to participate in the
activity taking place. Although my biggest challenge was dealing with
the sass and attitude of the campers, I viewed these attitudes and
behaviors as challenges for myself in which I solved by understanding
the different backgrounds and home situations of these children. As
sad as it was to have the camp end, it was nice to see the campers
have fun; most campers did not want to leave and couldn't wait to
return the following year. I learned how to be more understanding,
caring and able to put others needs before my own in some situations.

The sessions I attended and volunteered for were all spectacular because
they provided a safe environment for the children where they would
share their ideas for their future and let counselors encourage them
and have them understand that there is always someone by their side.
I honestly believe that looking back twenty or thirty years from now
my volunteer work will have helped many young children to persevere
and accomplish anything they set their mind to.