Name: Bailey Crepage
From: Bowling Green, Ohio
Grade: 1st Year
School: Bowling Green State University
Votes: 0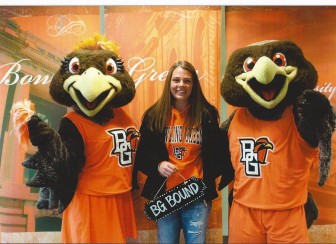 Making
a Difference by Bringing Hope
          During the summer of 2016 I decided to participate in a volunteer mission trip that come to find out would change my life forever. As I traveled to Talkeetna, Alaska I had no idea what I was getting myself into. When I arrived for two weeks of volunteering, I knew no one and didn't know what to expect. The nerves soon subsided as I realized that I was going to make a difference. Through an organization called, HOPE Worldwide, I was able to volunteer across the country bringing HOPE to the people I interacted with.
The first week of my two-week journey required continuing construction on a camp that would soon host many summer camps for both youth and adults. The second week, our group of volunteers planned and ran a camp for special needs children and adults. That week was by far the most difficult yet most rewarding. Constantly having to entertain and
care for the campers proved difficult and stressful. Not to mention, having no running water meant using an outhouse and not showering for a week! However, seeing the campers, running, laughing and having the best week of their life is something I'll never forget. We even planned a graduation ceremony for one of the campers who graduated from home-schooling, something that no one thought was possible. As our campers departed after a long week, one of the caretakers said that our camper behaved the best he has ever before. "He won't stop talking about how much he wants to come back" she said. This comment made all the trials and tribulations of the week completely worth it. As a group we were able to provide love and hope to special needs adults and children in Alaska during just one week while also having fun ourselves.
          This experience revealed just how much I love volunteering and serving others. As I began my freshman year of college, I decided to join Omega Phi Alpha, a national service sorority. As I become an active member this December I will be able to continue my love for volunteering. Omega Phi Alpha's mission is to "provide service to the university community, community at large, sisters of the sorority and nations of the world." To maintain good, active status, every member must complete 30 service hours a semester. These can be gained by doing various organized service projects throughout the semester. I love being a part of Omega Phi Alpha because it provides me a group, a sisterhood that enjoys serving and volunteering and not partying and drinking.
           As I pursue a degree in the medical field, I will be able to continue to volunteer and serve others. My dream would be to become a physician and be able to travel to an underdeveloped country to provide them help and hope. Volunteering during high school as well as through a service sorority has provided me the basis and developed my love for volunteering.