Name: Wissam El Qut
From: carmichael, California
Grade: Junior
School: Del Campo High school
Votes: 0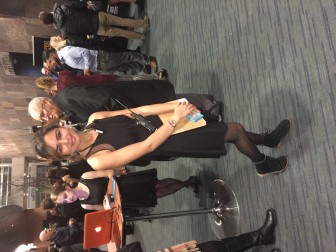 Making
a difference in kids' lives
I believe that volunteering in the community is an important factor
towards the growth of a person's inner self and that it can impact
the world in a positive way. I decided to be part of that role by
joining a nonprofit organization called Kids Helping Kids. It's
main goal is to investigate in the lives of children in need both
locally and globally. We are able to help hundreds of children in
Sacramento County every year, especially the ones that live in a low
income household. By raising thousands of dollars, we buy backpacks
and school supplies for the kids that can't afford it themselves
and we investigate money into tutoring and arts programs. I was in
the club and class for this organization and we went twice a week to
tutor elementary kids and to do some art projects with them because
their school couldn't afford an art program. I spend about 5 hours
a week working on fundraising towards this cause with the other
students and about 3 hours a week, working with the adorable kids.
Being part of this organization, meant having responsibilities that had to
get done no matter what. The organization had different branches and
I was part of planning major events that helped us raise the money,
wrote grants to get money from companies and tutored third graders in
math. Each role needed a lot of effort and time in order to make them
effective and influential towards the kids' lives. I struggled a
lot with getting the requirements done for a major event planning but
I overcame that obstacles by recognizing how much I will be able to
impact a child's future, through an act of kindness. So I pulled
myself together and worked my hardest to get everything done.
The most rewarding part of it was, seeing kids' smiles on their faces
and knowing that they were filled with joy in their little hearts. It
definitely made me realize how much more I want to establish in my
community in order to impact everyone's lives, and especially kids.
I tend to believe that by showing an act of kindness to one person,
that they will pass it on to another and impact someone else's
life. Since I got the opportunity to work with kids and the ability
to make a difference in their lives, I hope to pursue a career in
where I can help kids and adults in any possible way.
I believe that if I came back in ten, twenty, or even thirty years, I
would see all those kids being on a successful path, influencing
their surroundings with a positive attitude because of the kindness
they faced in their younger ages. I hope to seek a difference in our
community, by more people helping each others and not hate on one
another. Mainly, seeking for the smile of a kid's face too.