Name: Ashton Mackenzie Bennett
From: Belton, Missouri
Grade: 11
School: Belton High School
Votes: 358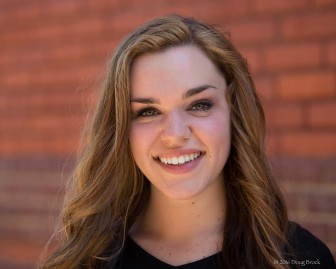 Ashton
Bennett
Belton
High School
Youth
Forward Scholarship
College
English 2A
Making
a Difference Through Community Service
"Miss Ashton," a student calls to me from across the playground. I walk over to a group of girls playing by the swing set. "Miss Ashton,
can you be with us all the time," said one kinder gardener. "We want you to be our teacher forever," says another. It was moments
like these that made me love what I do even more. I love these children and they have showed me that this is what I want to do for
the rest of my life.

Volunteering and community service are imperative parts of my life because I get to do something I am passionate about. I have recently been tutoring elementary children and working with the movement Giving the Basics. Giving the Basics is a program that provides the basic needs for students who do not have access to them at home, such as toilet paper, soap, and toothpaste. Both acts of volunteering have helped me to see how much I love to volunteer and how I have grown a passion for this work. I work with the elementary children for two hours every other day, and I volunteer with Giving the Basics once a semester. I do other smaller volunteer work along with these other organizations, such as Girls On The Run and highway cleanups.
One of my biggest responsibilities as a volunteer has to be to give these children what they need to have a successful future. Whether that be help on their math work or just to sit down and talk about their interests and give them some encouragement. I want to do what ever I can to help them succeed and gain knowledge. There have been many satisfactory moments from my work as a volunteer. When I am working with a student on a more difficult subject for them, I try to find as many ways to explain it to them until they understand and when they finally do, the clarity they feel is so overwhelming and satisfying. I want to make a difference in their lives and change their life for the better.
My volunteer positions have taught me many different things. They have made me a better leader for my school and community. They have also taught me to never take anything for granted and to live life to the fullest, because you never know when it could all be taken away from you. Volunteering has also reminded me to stay positive. No matter what situation you may be going through there will always be a light at the end of that dark tunnel. And you just have to keep on going until you reach it. These people go through things that no human being should have to go through. And if I can help them get through their tough times, then I am satisfied.