Name: Kenneth Turner
From: Forks, Washington
Grade: 11
School: Forks High School
Votes: 0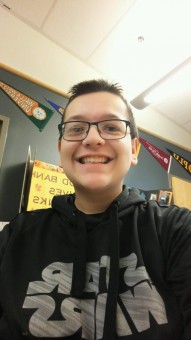 Doing community work is something that I really enjoy. It allows me to contribute to the community in a small way and be able to have that feeling of doing something good. That feeling is the one thing that is my inspiration. It is what keeps me doing what I do. If I could
choose one organization to volunteer with, I would choose the food bank because it provides meals for the people that can feed
themselves and creates a more stable part in their lives. That would make anyone feel good about what they are doing.
The feeling of doing something good is one thing a lot of people use to do what they do. I was inspired by one of my friends who all of his community work following the general rule. All of my volunteer work started my freshman year of high school. I knew that community service was required for your portfolio and I wanted to try and get a head start one getting my hours because I knew that school would go by really fast. It was important to me because it allowed me to contribute to the people that contributed to everyone with the job that they do for so many years. But will all of this community service, you need to a form of effort.
Everything that includes community service requires effort, even if it is a small amount. There is always going to be that one job that you do that needs you to work hard to contribute. One of the first things that I did was attend the harvest dinner at the local congregational church which allowed me to help distribute food and help with general clean up. I also help with my advisory to clean up the school. We went outside a few times and clean up all the garbage around the school. Lastly I helped with the concession stand and worked on food management and customer service which allowed to me to contribute my time for my school. Through all of these activities that I helped with, I always tried to recruit others to help with anything that needed to be done and gave them an incentive of earning hours for their portfolio. Of course, they jumped on that opportunity. The most difficult part of my project was making time to
get these actives fit between home and work.
The impact of my work has made a difference for the people that run the concession stand. I have given them a chance to have someone that will not bail on them right before a game. There have been a few spots that would have been catastrophes if I had not attended that
night. I have also got in the habit of training others in the procedures that I have learned over the years. Only a small group of students have been affected by this training and they have and they have used it to their advantage. The concession stand will always being going until it is possible not to.
I have learned a lot in doing this volunteer work. I have been able to meet new people and learn new thing. I have been able to learn the
quality and impact of having good customer service when dealing with people and how to handle the situation. The most memorable moment from the community service e that I have did was when a little boy came up to the concession stand and ordered a bag of popcorn but did not have any money, so all of the staff from the concession stand that night chipped in a got that boy a bag of popcorn. That night made me want to keep helping even though it is not required. I just wanted to meet another kid like that because that was the highlight of my day. If you want to volunteer there is always the people like the little boy that will be what keeps you in volunteer work and that is one of the best pieces of advice that I can give you.
The concept of volunteer work is for you, not just for others. It allows you to be creative and express the way you feel that things should
go. Don't judge a book by its cover because you never know what that book might be.