Name: Elias Salinas Jr.
From: Gilroy, CA
Grade: 11
School: Dr. TJ Owens Gilroy Early College Academy
Votes: 0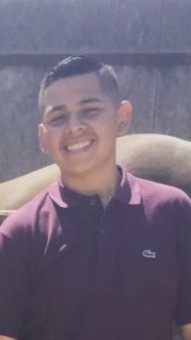 Memorial
Day Parade Volunteer
Memorial Day, a day of honoring the fallen in battle. A way to remember these people is by having a parade. The city of Gilroy has a Memorial Day Parade every year. This parade has been growing more and more every year. The first time I went to it was when I was doing community service and scooped the horses poop in 8th grade. That was the last time I did that and two years later I was part of it as a volunteer to ride in it with my horse, and put up a show for the audience. Every year I look around and see more and more people and experience a longer parade every year as well.
Getting to the parade may be a struggle since the entrance is coned out between Monterey Road and Tenth Street. We drive to the intersection and see an officer, he says "Welcome gentlemen, I hope you have a good time and thank you for keeping the parade alive with those amazing horses" . We drive in and find a parking space at the train station, get the horses down and saddle them up. They stand tied up to the trailers, three horses on some trailers and six on others. We were not the only ones who had horses and were part of the parade but people with Arabians, Quarter Horses, Thoroughbreds, and a few other horse breeds. Some horses looked small, skinny, fat, tall, and others were flawless. I was looking around and say the most beautiful Friesian I had ever seen. He stood at about 17 hands, had a rich black coat, hairy legs, a nice shaped head, and a really wide neck. His owner rode him to his post position and got ready to give a show by dancing his way from Monterey Road, turning right onto Tenth Street and straight all the way onto Gilroy High School's opened space by the softball field where the parade was going to end.
I walked to my horse a White Andalusian stud by the name Bandoleer who was standing outside the fourth trailer to the left and massaged his neck. His hair looked like it needed a little touch up so I went into the trailer and grabbed a brush and a spray by the
name Show Sheen. I went back to my horse and applied the spray, then brushed through his hair. He looked stunning and was in great condition this day. I unclipped the lead rope that sustained him to the trailer and walked him about 200 feet and then put my foot in the stirrup and ride him. My crew was already in their position and I was the only one missing, I looked at them and they looked back and waved for me to hurry up and go over to where they were by Mariscos Puerto Vallarta. I lead my horse over and got in my spot between Median Noche a black QuaFresian colt a El Moro property of Abelardo Gaeta. I looked around once again and counted about 30 people on one side of the street, we walked more and more people started to appear and so did poop. I got off my horse and went to my trailer. Yes, I was late but I had to clean up the poop because it was not right to just leave it there on the floor.
Making the turn onto Tenth Street was like walking into Disneyland. full of people all over the place. People yelled as our horses danced. Some took pictures and recorded while we smiled and waved. It was not too long when I could smell the Carne Asada from Tacos Ameca right on the corner of Tenth Street and Monterey Road. The red building had smoke outside and an employee on the grill making sure the meat was bing cooked to perfection. The smell was phenomenal and got me hungry. I was a little distracted and got my horse confused when leading him onto the next step which was Passage. He moved all over the place and bumped into Media Noche, I was embarrassed because it was sweat and days of perfect practice and the day of the parade my horse acted up because of some carne aside smell.
I looked straight and saw a truck with mariachi in it, I focused on it because I was in shame after what had happened. Holding onto my rein I started to dance my horse and some of  my friends were standing in a crowd of about thirty people on Hanna and Tenth, they started to  yell out my name so I turned and looked at them, then waved. We walked by the announcer who announced "Here we have Arraiga Ranch, Rancho Gaeta, and Garrido Stables giving us a show with some of their best dressage horses, their Quarter Horses, and their Friesians". Picture after picture from side to side got me a little nervous when without even noticing I crossed the last street intersection and noticed that the parade was coming to an end. People were starting to fade away and the stop was a few foot steps away now. The groups that were ahead of us split up and said to us "See you next year guys", we turned and made out way back to Monterey Road with a smile on our face because we honored those who lost their lives in battle for us and our country. I was very satisfied because all of the hard work with the horses I volunteered and shocked people. It is my passion and I mixed my passion for horses with volunteering so both of them put together was something great