Name: Ari Howard
From: Jacksonville, FL
Grade: 11
School: Douglas Anderson School of the Arts
Votes: 0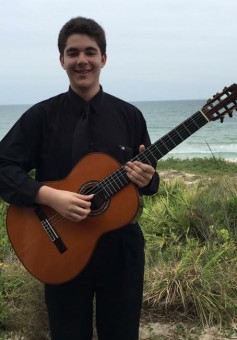 Six things which I consider the most meaningful are the E, A, D, G, B and E strings. The classical guitar to me is not just an instrument used to create sound, rather it has been the instrument which gives me a connection with my community as well as a personal diversion. I discovered this beautiful instrument at around the age of six. Initially, it was a hobby; however, it has evolved into much more. At the same time I expressed interest in learning guitar, my father was diagnosed with two end-stage kidney disease. Over the next several years, as I learned to play the guitar, the nights at my house became still and silent. The only constant was the hum of the dialysis machine keeping my father alive. To fill any eerie silence, I played
the guitar. I found an escape with my guitar. Many nights, my father found it very difficult to sleep. One evening, I was up very late and saw his discomfort. I decided to play the guitar for him. My music comforted him and eased him to sleep. At that moment, I realized the healing effect music had on people.
A few years later, when my father successfully received a kidney transplant, I decided to bring the results from the escape I received from music to others in my community. In September, 2013 a teenage neighbor and her mother were struck by a car while crossing a busy intersection. As a result of the accident, the mother was killed instantly and the teenager was left without any parents. She was left paralyzed from the waist down with metal braces jutting out of her hips as support for her legs to make sure they wouldn't collapse. I immediately wanted to help. The first thought that came to mind was music.
I decided to produce a benefit concert to defray any medical costs for my neighbor, now friend. I promptly started to secure performers, items for a silent auction, as well as a venue to hold the event. After soliciting venues, businesses and speaking with many in our community, I kept operating expenses to $100. I am very proud to say that the benefit concert yielded over $10,000. The event included live performances from a world renowned classical guitarist and local celebrities. I realize at a young age that not only does music heal, it also has the power to bring a community together. I have the privilege of sharing my gift of music at nursing homes, homeless shelters and hospices.


I
welcome you to view these links for a brief overview of some of my
community involvement:
http://www.news4jax.com/news/local/benefit-concert-held-for-teen-hit-by-car
http://www.news4jax.com/news/morning-show/local-teen-making-a-difference