Name: Rebecca Braun
From: Macon, Georgia
Grade: College Freshman in 2016-2017
School: Mercer University
Votes: 31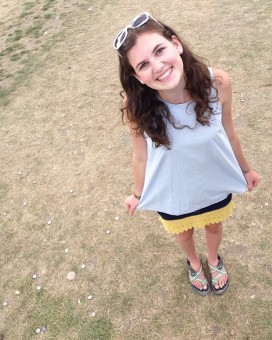 I have volunteered for the past four years with Compassion International. Compassion International seeks to provide children with sponsorships until they graduate high school, or the highest level of schooling available to the children in their individual countries. I became a sponsor six years ago in Germany, with the encouragement of both of my parents. Having lived in Germany and America, two cultures and societies so vastly different from each other, I felt the need to sponsor a little girl and give her the same opportunities someday to travel and see the world. I was still so young, and I couldn't be employed by Compassion, therefore I decided to become a Compassion Advocate. An advocate has the chance to volunteer for every event that Compassion participates in, handing out sponsorship packets, sharing my incredible story of how I found the perfect two girls miles apart that I am able to continually sponsor, and helping others find the child that they were meant to sponsor as well.
I have volunteered across the state of Georgia for four years now, on a monthly basis. It has been amazing, seeing people's faces light up when they come to the sponsorship table and tell me that the packet I passed down their row in a church service was exactly the child they were looking to sponsor. It's such a special moment in the lives of these families and in the life of the sweet little barefoot girl or the boy with a constant grin on his face that has just been sponsored. To know that they are sponsored, that their education is paid for and that they don't have to worry about where their meal
will come from every day is the greatest gift you can give these children. Based on my experience with Compassion, I decided that I wanted to become an ambassador to a third word country with United Nations, changing the lives of children through a hug and clean water well one day at a time. I am currently enrolled at Mercer University, double-majoring in International Affairs and International Business so that I can affect real change within the lives of children and their families. I know that I make a difference in the lives of the two children I sponsor, because I had the opportunity to visit one of my girls, Darnelle, in Haiti, and she told me that every single letter I have ever written her, along with every little gift I've
sent is carefully stored in her family's hut, and all of the pictures I've mailed are hanging on her wall. She lit up when she
told me how she waits for my letters, and her response has only fueled my love for volunteer work and for making the dreams of children and families across the world come true through simple acts of kindness and steps of faith.