Name: Manisha Islam
From: Cypress, Texas
Grade: Senior 12th
School: Cypress Woods High School
Votes: 0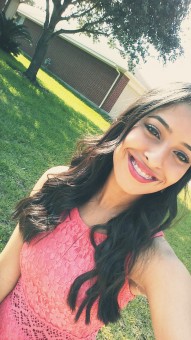 My passion for volunteering started in middle school. I always had a
burning passion for helping people and at such a young age I started
looking for opportunities to do so. Lone Star College Discover
program gave me an amazing opportunity to start volunteering over the
summer. I began to help kids from the age of 4-12 learn topics they
were interested in. throughout my years of volunteering for lone star
discovery program, years that include 7th grade up to 12th
120 hours all summer. I helped students develop skills in web design,
photography, United States government, cooking, jewelry design, etc.
this program itself opened my up to many different volunteering
opportunities.
Lone star Discovery Program was only a summer program and during the
school year I wanted to volunteer and help the community; therefore,
in 9th with a group of friends I helped that's my
schools Interact Club, the younger version of Rotary Club. Through
this club I started to volunteer for the Houston Food Bank, Books for
the World, and even Houston Children's Museum. I was extremely
happy in that I was helping out not only my community but also my
city. Starting a volunteering club allowed students in my school to
also see the opportunity to help others. A great tradition that
Interact Club had started was during Halloween, the Interact Club
members would go trick-or-treating for canned foods to deliver to the
Houston Food Bank. However, my pride and joy of volunteering lies
back at lone star where I helped begin with the help of the
children's library, Craft Prep.
Craft prep is a program designed to help the Children's Library
Staff prepare crafts, 4 Hours a week, for the following week for
children during pre-school and toddler times. Craft Prep is held
every Friday and we sit down and cut out shapes and prepare anything
that the children form the age of 1-5 are not able to do themselves.
These crafts include, decorating Christmas ornaments for the children
to put up on a tree, cutting out stars for them to decorate the night
sky with, making snow man hats for the children to put on their
snowman they make out of molding clay, and so much more! Over the
summer I volunteer during the pre-school and toddler times and
witness the smiles on the children crafting with what we created the
week before, and noting makes me happier than to see something I did
bring happiness to others.
With all this volunteering I have still managed to keep a 4.0 GPA and
have taken 7 AP classes. Volunteering gives me a purpose.
Volunteering has helped shape me to be the person I am today, and
just because I will be going to college next year I will not stop
volunteering. Instead, going to college will enhance my need to
volunteer. I have a burring passion for volunteering and it has only
grown in the past 6 years.