Name: Katelyn Lipton
From: New Windsor, NY
Grade: 11
School: Cornwall Central High School
Votes: 0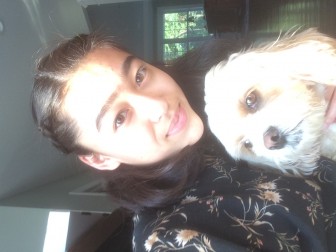 Katelyn
Lipton
    I volunteer in the field of environmental activism through my school's
Environmental Club. I chose this because I have a passion for the
environment. The increasing volumes of pollution, deforestation, and
climate change prompted my interest in the environment. Seeing litter
scattered on streets always angered me, and I took it upon myself to
clean up my community. Through the Environmental club, I am able
attend organized events working with groups of people to clean up the
community. I firmly believe that every small environmentally
conscious action helps work towards creating a cleaner environment
for the whole world. This is what forward looking means to me:
working towards creating a better future. As a result, I definitely
believe that all of my actions will have made a difference.
    I love being in my school's Environmental Club because I get to have
a designated time to help the environment each week. We meet anywhere
from two to four hours a week in addition to volunteering at events
in the community on weekends. In a month, I volunteer around ten to
fifteen hours.
    As a part of this club, I have become the vice president. This requires
me to help organize and seek new volunteering opportunities this
week. This has helped me to become more responsible and develop my
leadership skills. I also brainstorm ideas for our club to research.
We make bulletin boards around the school to educate the community
about environmental problems. Adding to our role in the community, we
also manage a vegetable garden. We plant, weed and harvest vegetables
that we use in our school's lunches. We donate the excess produce
to food pantries to further benefit the community.
    Right now, we are working on revamping our garden to utilize the space more
environmentally consciously and more cost efficiently. As vice
president, I have been constructing ideas that are creative and
utilize our current space. I have met with the manager of building
and grounds in our school to discuss this project too. We also
organize a school wide bottle collection. We collect bottles and cans
and deposit them for money to fund our garden. All of these
responsibilities bring challenges but help me to grow as a person.
    Being vice president of this organization requires me to dedicate a lot of
time to the club. As a student taking vigorous AP classes, it becomes
difficult to balance schoolwork and volunteering. Finding the balance
between the two is definitely the most challenging part of
volunteering. While this can become stressful at times, the
experience of volunteering is overwhelmingly positive.
    Every meeting I attend, I know that I am furthering my community. This
gives me the greatest feeling of satisfaction because I know I am
making my school and community a cleaner, more eco-friendly, and
sustainable place. This feeling of satisfaction and purpose has led
me to discover my desire to continue my work in environmental science
in a future career.