Name: Allison Brookover
From: San Diego, California
Grade: allisonbrookover@gmail.com
School: allisonbrookover@gmail.com
Votes: 0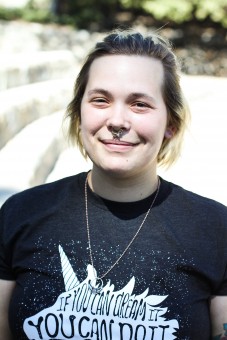 My
Experience with Brave Trails
My name is Allison, but at camp everyone knows me as "Big Al". I have spent time during the last two summers preparing for camp and assisting in creating a safe and wonderful space for the youth in the LGBTQ+ community with Camp Brave Trails. Brave Trails is an overnight leadership camp for queer youth and their allies ages 12 to 20. At camp I play a role in helping those youth utilize various resources into becoming leaders in their own right at home, in their schools, and ultimately in the LGBTQ community as a whole.
Camp Brave Trails provides an opportunity for these youth to feel comfortable in their own skin, think critically about their
communities, and to take action in making each space they hold as safe as possible. Brave Trails benefits the community by putting its
youth first. They focus on four key elements: leadership, community building, self-realization, and service. These aspects are realized
through workshops, adventure, creative programming, service projects, peer connections, and the presence of positive role models.
My role at camp is as camp-counselor, as well as the arts and crafts program director. For the span of the two-week session I created
lesson plans for five individual art programs, and collaborated with other counselors to facilitate three separate workshops about gender
identity. My goal in creating the arts and crafts lessons was to inspire as many youth as possible in creating their own mark on the
world. Each program was crafted to demonstrate various projects to utilize as a personal creative exercise, the ability to master the
crafts to re-produce at home for a potential fund-raising campaign, or as a source of self-care.
As a workshop facilitator, me and my fellow camp staff, provided space for the youth to speak out about their struggles, listen and support each other in solidarity, and the opportunity to offer their own personal insight. This promotes leadership in a very personal way.
The youth are able to foster meaningful relationships with each other, and acquire the skills to take back to their school's GSA's
where they will likely lead similar exercises.
I believe my role at camp, in part, benefited our community as a whole. My presence, along with all of the other staff as healthy, happy, and productive queer adults is a very powerful thing to witness as a youth. Most youth in this community don't have the opportunity to
witness that. There is still very little representation for healthy role models in the media. We live in a time with very scary statistics for these youth, and in some parts of the USA, these youth have very little support at all.

Camp Brave Trails is now home to so many youth throughout the United States, as well as internationally. I hope my involvement with this organization lasts a great while. I have learned so much about myself, and am continuing to learn more about the role I play and how to better support others.