Name: Leonora Ferrara
From: Imperial Beach, California
Grade: 12
School: Mar Vista High School
Votes: 215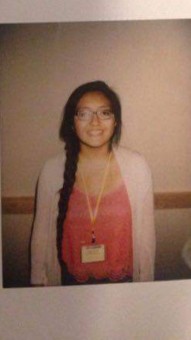 One area that I haven chosen to volunteer in is my high school's Leadership Club, which I am the president of. In this club, our main focus is to engage in our community and give back to those less fortunate, all while maintaining and increasing leadership skills. I chose this particular organization because, as generic as it sounds, I love to help people.
I volunteer at least an hour a week for Leadership Club. However, I also volunteer as tutor for 10 hours each week, which is run by the same organization that runs Leadership Club.
One of my responsibilities as a volunteer is to ensure that we promote our club in order to encourage others to join it because we need all the help we can get. Another responsibility involved with promoting our club is to inspire others to donate to our causes which range from collecting blankets for the homeless to purchasing Thanksgiving dinner for local families in need at our school.
The most difficult challenge of being a volunteer is helping others maintain a positive spirit. However, as the President it's my job to make sure everyone else is the club remains doesn't give up, which can be very taxing at times.
As a volunteer, actually helping at events has given me the most satisfaction. I participated in an event once helping to rehabilitate homeless people and bring them back as active members of the community. Out of my entire time of volunteering, the impact I had on these people gave me the greatest satisfaction because I could see that they found my assistance moving, as I did at their willingness and attempt to gain respect while pushing to fight their way back into society. I was truly amazed.
With this volunteer experience, I realized that I want to pursue a lifelong engagement in finding ways to help others. This is what I want to do for the rest of my life, not for the recognition or complacency, but for the impact I could have on so many lives just by alleviating any problems they may have, to my best ability.
Looking to the future, I see my activities as "forward looking" because they reflect my life goals and are just the introduction to the lifetime I plan to spend helping others. To me, "forward looking" means that I took my goals into account when I chose these activities.
I don't want to sound basic, but I want to make the world a better place and I'm going to. I'm going to help as many people as I can in anyway that I can and hope that I can somehow trigger something in their hearts to make and difference as well.
In many years to come, I hope I can look back on my volunteer service and say I made a global impact, and if not? I hope I can say that my work mattered because I helped changed the lives of those who needed me.