Name: Derek Niiad Adjei
From: Stockbridge, Georgia
Grade: 11th
School: Dutchtown High School
Votes: 0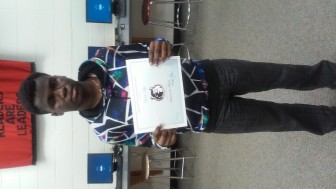 Derek
Adjei

Dutchtown
High
(770)
515-7510
149
Mitchell Rd,
Hampton,
Ga 30228
My
time giving food to the hungry people of this world
Over the summer I spent an average of four hours a week helping those who couldn't afford to bring home food to their family everyday get food. I volunteered at the Stockbridge Assembly church and Samaritan get together in Stockbridge Ga because I love helping the community, making life better for someone else, and being a Humanitarian. At the end of the summer of 2016 I had a total of 30 hours work of service to my community.
Both of these organizations were set up by a Church who set out to use a lot of money to give all sorts of foods, both healthy and "comfort", to people who really need it. My responsibility was to pack foods into their respective boxes and we distributed based on family size, preference of pork or no pork, and any special requests they desired we gave to help them such as giving dog food. I would also consult the clients and pack boxes into their cars.
The biggest challenge I faced was to make sure all the clients had the needed goods we gave to everyone. To fix this challenge other people around my age would form groups of who retrieved what. We did for each and every box, thus avoiding confusion, mistakes, and reducing malapportionment.
My biggest satisfaction was helping those in need, I didn't and did not get anything in return but went out to bring foods to the homes of many people who couldn't always afford to. My family ourselves use to go to the program, when we were in urgent times, sometimes I had to limit my meals a day but the Stockbridge Assembly Church ended that, so I also wanted to ensure others get help or don't go through that. My goal in life has always been to be a Humanitarian, so participating in both programs put me in awe. I plan to continue doing volunteer work again in the future in all sorts of fields especially helping animals at an animal sanctuary called Noah's Ark in Locust Grove Georgia.
I learned valuable lessons volunteering for my community. I learned the value of cooperation by working as a group to deliver relief. I learned how to improve my own individual production by getting engaged in different task. Finally I learned the value of communities lifting each and every one of their members up.