Name: Jada Learman
From: Harbor Beach, Michigan
Grade: 11
School: Harbor Beach Community High School
Votes: 0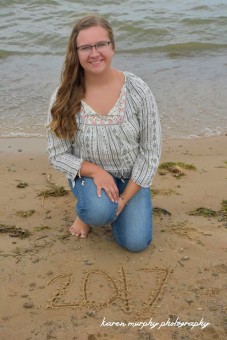 Two of my great aunts and a family friend motivated me to start getting involved at our local food pantry, when I was only nine. When I first
began volunteering, I would just do small, simple tasks that help out here and there, such as doubling bags for packing, and checking dates
on food items. I feel that what I've done since I was younger has helped tremendously. For many people including myself, those who I have given the food to, and  the other volunteers that have worked along with me.
The effort that I have put forth over the years to work towards helping people I'm sure has added up to a tremendous amount. The jobs I
have done throughout the years have varied from stocking shelves to putting files into the computer. The most difficult part of this ongoing project is having to understand what circumstances our customers go through to have to come and receive help. People go through many different times in their lives, some harder than others. At the food pantry we, most of the time, see the people that are going through the hardest time in their life. Although it is a difficult task, we try our best to put aside our feelings and personal thoughts so we can help them the best we are able to.
My volunteerism has accomplished many goals through helping many different people. Many people have benefited from my dedication;
thankfully, those who need it the most. Our goal is to give them food to physically survive and to give them a smile or a small conversation to mentally survive. I plan on continuing volunteering as long as I can, or until the food pantry closes, whichever happens first.
Out of doing this volunteer service I have learned what it is like to have to ask for help, and how good it feels to be able to give help.
I have gained many skills through volunteering at the food pantry, most importantly learning how to work with people. Before I began
volunteering at the food pantry I had a lot of trouble talking in front of people and talking with people I haven't met before. The most memorable experience I've had is when I was interviewed for two papers for being recognized for my work! One moment that really stands out is when the leader of the food pantry, Debbie, introduces me to other people and how many good compliments  she has to say about me. The most important lesson that I learned that I would share with others is they have to be passionate about their community service activities, they can't just do them because they have to, or because  they need service credits. They have to want to to do them! Who knows, maybe they'll make someone's day and change a life.