Name: Alayna Springer
From: Peoria, AZ
Grade: 12
School: Centennial High School
Votes: 116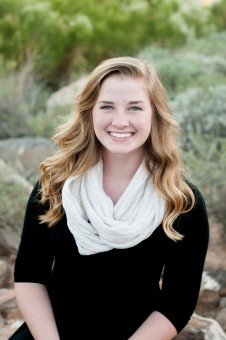 It's
hard to imagine spending time with dying people could be a positive
experience in any way, but through my volunteering at a hospice care
center I have come to learn quite the opposite. I have spent two
hours a week for the past year volunteering at a hospice care center
for people nearing the end of life. My responsibilities include
helping nurses adjust patients, changing patients' briefs, or
preparing food and feeding patients. However, my most important
responsibility as a volunteer is the one on one time that I give to
the patients. I sit with and talk to them to give comfort and
distractions from their pain. Seeing the pain that hospice patients
endure was my biggest challenge, especially because there was nothing
I could physically do to make them better. It was through this
challenge though that I discovered the ability I have to help people
feel better emotionally. I saw the relief that I can provide for
people by keeping them company and letting them know that they will
not spend their last moments alone. Though sad at times, I find
satisfaction in the conversations that I have with patients. One
patient I spent time with was a lady who told me about how she loved
gardening and how she shared her love for gardening with her family.
Whatever the story, getting to hear what made these people happy
truly brings me joy.
My
position as a volunteer has taught me that sometimes the best
remedies you can give someone is your time. Talking with patients
distracted them from their situations and encouraged them to
reminisce about better times. This has helped me with everyday
interactions because it altered my perspective. Our time is short so
it is important to spend meaningful time with those who need it most.
With my acquired perspective, I have considered making a career of
hospice. However, I have always been passionate about architecture
which is what I want to make a career of. But while I don't plan on
pursuing a career in hospice care, the knowledge and experience I
have gained from volunteering has taught me how to care for people
who are sick or in need. This will help in my future when I have
family members or friends who have terminal illnesses and need
special care. I have heard many people who have visited hospice units
say that it is just sad and depressing. Through volunteering, I
learned that though death can be sad and hard to face, giving people
your time to ease their pain can bring so much happiness to both the
patient and yourself. If I were to come back to hospice in the
future, I would find satisfaction in knowing that my service touched
the lives of many who passed away and also the lives of their
families who can find peace in knowing that their loved one was cared
for and most of all not alone in their final days of life.