Name: Taylor Winzer
From: Marysville, MI
Grade: 12
School: Marysville High School
Votes: 0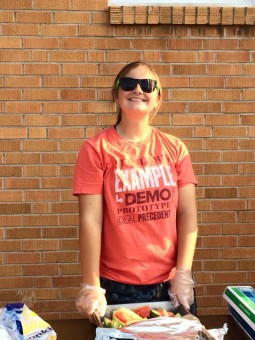 On
a Mission to Help Children one Child at a time
Volunteering is something I have done since I was twelve years old. Since that time I have always volunteered at least two hours a week during school and week-long mission trips in the summer.  Volunteering and making a difference has always been something that has given me so much joy.  As a volunteer much of the work I have done has been with children. I have worked in boys and girls centers, coached basketball/volleyball, soup kitchens, tutored, and helped with building houses. Working with children and seeing the joy in their faces is something that is priceless. The biggest challenge I have had as a volunteer is feeling helpless in some of the situations where I want to do more.  For example, when I was on my last mission trip.
I saw a little African American boy inhaling his lunch like it's the last meal he will ever eat. Devante was his name and as I sit here I watch as he is not only scarfing down just any lunch but Veggie Straws dipped in honey mustard, like it was a steak dinner. This is the moment I realized how blessed I was and how important it is to advance the underrepresented groups in American Society.
This was the moment I knew I wanted to become a teacher, and help little boys and girls like this to excel in their education and to advance their future contribution in society. That's exactly what I did while I was there, although it may not have been in the teachings of math or science.  I taught many groups of kids in The Boys and Girls Club of Chattanooga the understandings of God's Bible stories, and the importance to rely on God in times of need. I had one little girl simply raise her hand, I called on her and she asked me with a defeated look on her face "Do we rely on God when our mommies or daddies hit us and don't feed us?". As I continuously blinked to keep my tears back I responded sheepishly, "Yes, rely on
God always". What else are you going to say to a 3-year-old girl looking up to you for answers, I had to obviously answer her, as honest as I could.
As I taught more groups after this I knew this is how I wanted to help others around me in the future, I wanted to teach, to inspire and hopefully make a difference in as many children's lives that I can. Among this group of children there is potential leaders, brain surgeons, and lawyers, but if they can't break out of poverty the cycle will continue for generations to come. This is why I want to be able to help as many children culturally, educationally, and personally as I can so they can excel now and for many generations to come. This is why volunteering is so important. We need to help those in need. Volunteering is something that is not as popular as it once was but we need to help each other. So many people are more concerned with themselves then helping others. Who would be the influence in the lives of each of these children's lives if people like us did not take the time to volunteer? By volunteering you are changing one life at a time.