Name: Lilia Maria Taccetta-Salazar
From: Mesa, Arizona
Grade: Senior
School: Mesa Transitional Learning Center
Votes: 0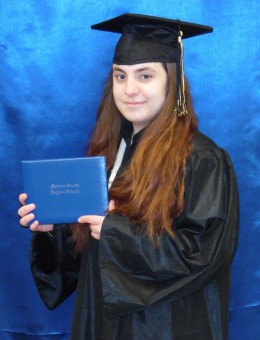 Youth Forward Scholarship 2016
The area I have chosen to volunteer in was feeding children with an extremely limited amount of food availability or none at all through an organization called "Feed My Starving Children". The reason I chose this was because ever since I was little I've had an urgency to want to help those children who have nothing. The reason I never did, was because I never knew how I could make a positive difference in these youths lives. Honestly, I only was able to volunteer once at this specific place but I have previously packed food for homeless people at my church on weekends. Although, this place stood out to me the most. My responsibilities as a volunteer was just to package food and that is why it stood out so much. It's strange to think that something so simple could make such a big difference in someone's life. This process took me about three hours but it was the best three hours I've spent so far. The environment was so loving and caring.
I met the most wonderful and kind hearted people there and there were many kids of the same age as me. The most satisfaction I got from this experience was knowing that I was helping and making a difference in someone's life.
In turn, I have also seen people making a difference in my life. I went through a very abusive past with no Dad growing up and got into drugs, alcohol, gangs, and self-injurious behaviors because I felt as if I had no one. My mother was an immense support but I ended up getting detained and going to multiple treatment centers for my disorderly behaviors and I met various people along the way who strongly impacted me.
These people have encouraged me and never stopped believing in me even when I didn't believe in myself, including my amazing mom.
Through my experiences, "Forward looking" has taught me that no matter what my past was I can only control the future and I can definitely make it brighter. My future goals like becoming a counseling psychologist and going to college full time reminds me that I have the power to change things within not only myself but others as well. I also would like to have my own animal rescue shelter for the reason being that I love animals and they deserve a healthy and safe life just as much as humans do.
I plan to continue doing volunteer work once I've started college at "Feed My Starving Children" because I loved finally feeling like I have a purpose in this world and that is to help people. If I were to come back in
10-20 years from now I'd look back and be proud. I'd think I made a difference because you can never volunteer too much and there's always someone out there in the world who is in need of help. Thank you for considering me as a candidate.