Name: Kassidy Bayne Wagner
From: Sussex, New Jersey
Grade: 12
School: High Point Regional High School
Votes: 3093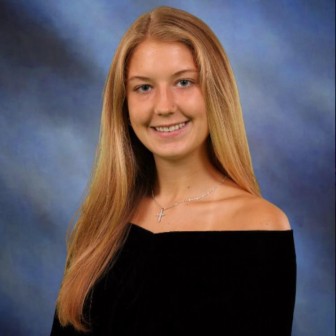 One
Small Kindness to a Teenager
Did
you know that the one item often requested by young people
experiencing homelessness is a pair of jeans? Recently,
I spearheaded a campaign to collect jeans for Teens
for Jeans,
a national campaign from DoSomething.org
after hearing a public service announcement featuring the program
which encourages young people across the country to run a drive in
their school or community to help provide clothing for youth
experiencing homelessness.
Over
a million young people experience homelessness in the United States
every year, and one of the most requested items that young people in
homeless shelters ask for is a pair of jeans. In the past eight
years, young people across the country have collected over 5 million
pairs of jeans through the Teens for Jeans program. Could I be
successful in collecting a substantial amount that would help the
cause? I'd just be happy to reach my personal goal of 500!
I've
done much volunteer work and community service over the years, but
this was the first time I decided to take a whole campaign on myself
and I needed to do a good deal of work and preparation to get the
word out in order to achieve the best results. I registered with the
website, followed by a discussion with my high school principal. I
sent out participation and help requests to my former schools, my
church and other affiliated churches, and the Rotary Society in our
community. I contacted my local newspapers with press releases and
they wrote articles on my behalf. I contacted the local radio
station, as well, asking them to continue making the announcement
about the cause on air for the duration of the campaign.
I
took pictures of everything: the boxes, flyers, stacks of jeans as
they grew in size. When I recruited people, I took pictures of them
with their donations – any kind of photo that would stand out and
make people remember me and the jeans drive. Then, I'd post them
on social media for exposure.
In
the end, 511 jeans were collected and delivered to the Oasis Haven
for Women and Children in Paterson, New Jersey. The campaign took
about thirteen hours total to complete from beginning to end.

An
incredible thing about homelessness in my own area of Sussex County
is that there is no actual facility where the homeless and displaced
can turn to. They are shuffled around from church to church each
week. I find it sad that there is no real
facility to house these people. After experiencing how wonderful
something like this is to them – giving them a sense of normalcy –
it has given me the incentive to want to do this again. I would love
to find out years from now that I made the difference if even in the
life of just one. Of course the dream is to eliminate homelessness
altogether, but if not possible, at least be able to house them
properly in my hometown.