Name: Fatuma Salat
From: Tucson, Arizona
Grade: 12
School: Desert View High School
Votes: 0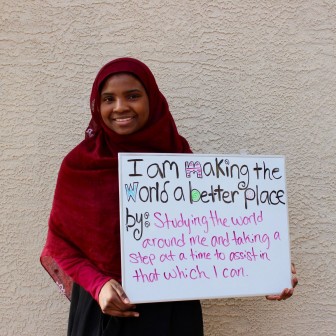 One
Volunteer Activity Can Make A Difference
Fatuma
Salat
Desert
View High School
It wasn't until my junior year of high school when I understood the
significance of volunteering and additionally the advantages that is
to originate from it. I've volunteered at animal shelters, breast
cancer events, elementary schools, marshall home for men and a couple
different areas. I've enjoyed volunteering in each one of those
regions. The region I appreciated most was the marshall home for men.
The marshall home for men, I learned, is a territory for resigned men
who can't care for themselves. I volunteered inside this territory
since I have an aching to work in the medical field. Working with the
men at the range allowed me to recognize how somethings might be
taken care of.
I've volunteered for four hours at the home and anticipate to accept the
opportunities that await. My first day volunteering there was on
thanksgiving day when my instructor informed me that the men had no
family visiting them. My principal obligation was to prepare a dish
and deliver it to them. I likewise had the obligation of cleaning up
after them. What I gained from holding these two position was that I
must be quick after setting up the dish, delivering and cleaning up
after them so that I can give them their desire of being heard and
acknowledged.
The greatest challenge in which I confronted during the time of the
volunteer was understanding the men. The majority of them had a go at
sharing their stories and it was difficult for me to comprehend them
since they would repeat themselves unconsciously or avoid a few
sections of the stories and forget it for you to assemble the pieces.
This was a challenge because I wanted to get to know them. A young
woman that worked at the area approached me to inform me of their
story. Hearing their stories made me passionate in light of the fact
that they were individuals who've taken a chance with their life to
offer back to communities. Seeing the greater part of them without
arms or legs and are reliant on others simply vexed me a bit and I
needed them to realize that I was there for them.
It was a blessing working with these men. What gave me the most
fulfillment was seeing the smile on the faces of these men as they
shared their stories. To realize that they had no one there for them
and to be there as a volunteer to demonstrate to them that they
weren't alone has given me fulfillment. I emphatically believe that
if I returned in ten or twenty years, volunteer inside that area
would've had effect in light of the fact that as a senior, I shared
this experience to the freshmen class at my school and urged them to
take advantage of such open doors.