Name: Adam Tucker
From: Mercer Island, Washington
Grade: 11
School: Mercer Island High School
Votes: 0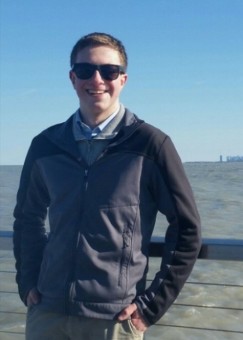 Inhaling deeply and puffing up her cheeks, the fifth grader
proceeded to expel her air into the trumpet with the greatest force
she could muster. The resulting sound, while deafening and strident,
showed considerable potential. A touch of pitch, a pinch of tone, and
we very well might have ourselves the next Wynton Marsalis. This was
not the Wednesday afternoon I had pictured when I first applied to
tutor students from a low-income neighborhood's elementary school.
Rather, I had expected to face bored pre-teens coerced by their
parents into showing up—uninspired, lethargic, and (at the very
least) tranquil. Instead I was confronted by my pupil, a pink-haired,
gregarious fifth grader. I soon discovered, however, that enthusiasm
is greatly preferable to disinterest. Taking deep breaths to reel in
exuberance is far easier than feebly raising my voice in
mock-excitement.
I have played trumpet and enjoyed the pleasure and community of
music for over six years, so my participation in it would feel
incomplete if I did not give back in some capacity. Thus, I started
tutoring with Seattle Music Partners this past year. Every week, I
would volunteer for two hours, not including my hour-long commute. It
was up to me to design weekly lessons, guide my student in her
playing, and find ways to integrate fun into my instruction. It
wasn't always easy—my student often became frustrated when
struggling to learn a new skill and would attempt to bash her
instrument into the ground. My time and effort, however, were always
validated by seeing a smile on her face at the end of the day, when
we customarily transcribed a song from her favorite TV series
together.
My greatest takeaway from the program was not some banal "broader
view of humanity" nor even extended patience with youngsters—it
was a genuine realization that, in every corner of the world, there
are people not just desiring mentorship and assistance, but yearning
to thrive and burst forth through their own creative efforts.
"Forward looking," to me, means equipping youth with the tools to
succeed on their own, and not just making a difference in the
present. It is my hope that, years from now, my student will continue
to play and enjoy music, not only having learned scales and rhythms,
but having been inspired to partake in this transformative art by our
time together.
I hope to use this realization to guide my future community
service. This summer, I interned at Atlantic Street Center in
Seattle, helping to tutor below-grade-level students and equip them
with the academic and social tools they need to be successful
throughout the rest of their lives. I have also designed and carried
out an SAT tutoring course for a non-native English speaker this past
year. Even though my volunteer work does not align perfectly with my
planned career in medical research, I would like
to continue my social justice work in college, teaching
trumpet and possibly creating a non-profit to expand my SAT tutoring
program.