Name: RaeAnna VanDemark
From: Sandia Park, NM
Grade: 11
School: East Mountain High School
Votes: 0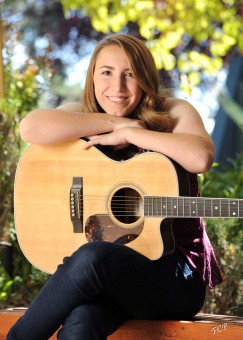 In the last 3 years, I've donated over 150 hours to volunteerism. As
an intern at a local music band camp, 30 hours/year. As an assistant
coach for Little League, 10 hours/year. As a member of National Honor
Society (NHS) doing various community service projects, 15
hours/year.
At Rock 101 Band Camps, I taught children to play guitar and perform on
stage in a rock band. I prepared each group of performers for their
show. For our local Little League, I taught young girls the softball
pitching basics and was a baserunning coach. As an NHS volunteer,
I've served meals to homeless, sorted food at pantries, cleared
wood from the forest and built trails at a wildlife refuge.
The biggest challenge I faced was working with children. I took teaching
cues from the adults at the music camps to find creative ways to
engage kids in learning. I have a newfound respect for the skills
required by music teachers to reach students and challenge them to do
their best.
The first time I performed in a band, was the most exhilarating
experience of my life. The joy I felt when I saw the crowd enjoying
the sounds from my amplifier, the driving beat of the drums, the
crowd jumping, the volume drowning out everything, was a feeling I'll
never forget. So, when I had the opportunity to help young children
learn to perform on stage, I jumped at it. Seeing that same joy in my
students faces as they realized they were producing music for others
to enjoy was immensely satisfying. Music is one of the greatest gifts
in my life and should be shared with others.
Volunteerism has taught me several lessons. Teaching children music and softball
has taught me that teaching is tough! I've learned to appreciate
the dedication many adults have given to me growing up. Volunteering
for the less fortunate, has taught me to not take for granted the
blessings in my life. I realize that when I'm helping others, I'm
not focused on myself, which is liberating. Finally, I've learned
through the physical labor of clearing wood or building trails, that
everybody has skills and gifts to offer our communities that provide
pleasant places to live.
My career goals are to be a professional musician and audio engineer.
The time I spent as an intern at Rock101 is in complete alignment
with that choice. Going forward, I'll seek opportunities to help
young children pursue music. Music brings me joy, therefore I want to
bring that joy into the world.
Coming back in twenty years I expect to see some of the young musicians I
worked with develop into members of the music community. I would like
to see active children playing at my old softball field, with
teenagers helping them learn. My sincerest hope is that the kids who
saw what I was doing as a teenage volunteer will pass that forward
and do the same when they grow up.