Name: Donald Wright Williams Jr.
From: Columbus, Georgia
Grade: Senior
School: Columbus High School
Votes: 48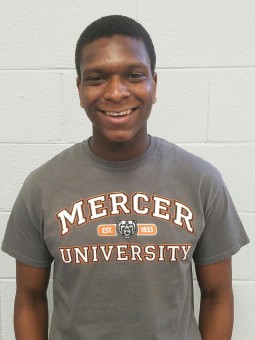 I
choose to spend much of my volunteer service focused in the area of
youth education and enrichment. My volunteer life was around the
clock with my most impacting work taking place during the summer
months. As a volunteer for youth education, I served as a teacher and
mentor to the kids in these programs. For example, I volunteered with
the Columbus Community Center from age thirteen until they hired me
this past summer. There I served as a group leader for the youngest
age group- 4 to 6 years old. At the center I was responsible for
creating engaging and educational activities that not only were fun
for the kids but also gave them a little snippet of knowledge to hold
on too. This is not to say that sometimes my activities fell short of
catching the kids' attention and it was often challenging to do so.
It was a challenge to constantly have to switch gears from teaching
to disciplining, and back to teaching. Dealing with kids constantly
tested my patience, but it taught me how to become a more receptive
human being which is a powerful attribute to acquire. This is true
because I learned that the only way I could reach the kids was to
take the time to listen and understand what they like and did not
like. This gave me a common ground which I used to connect and share
my own teachings which were better received when delivered on a plane
familiar to the children. Uncovering this realization gave me much
satisfaction, allowing me to progress as a teacher and mentor as well
as a communicable student and citizen.

Moreover,
I also uncovered another attribute that really forces me to have a
forward-looking mindset and therefore be a part of programs that
follows that same mindset; I have a yearning need to progress and
inspire that same need in others. The program is called the Columbus
Urban Debate League (CUDL) and is the brainchild of a progressive
idea between my friends and I. We wanted to create a program with the
specific goal of helping kids think critically, polish their reading
skills, and also become more communicable young citizens. So, we set
out to make the program happen and since has spread into various
after-school programs at middle schools in our county. I know that
programs like this, which are focused on youth education and
enrichment, will have a lasting impact because they are investments
in our world's future standing. They are investments in future
doctors, teachers, lawyers, astronauts, physicists, molecular
biologists, armed services, and much more. I have invested in the
progress of minds of the future; that is the "Forward Look" I
see. The progression of our world through teaching and encouraging
the minds of the younger generation will foster future productivity
and innovation. With this ideal in mind, I know this mindset will
make a difference in the world through its long-standing
encouragement of knowledge cultivation, diplomacy, and collaboration.