Name: Jared Frank
From: Jackson, WI
Grade: 11th Grade
School: Bridges Virtual Academy
Votes: 0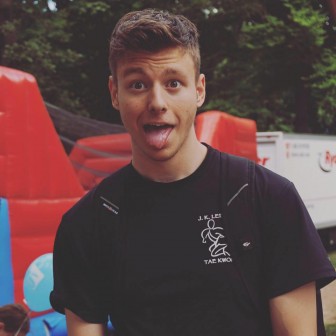 Putting
Smiles on Peoples Faces
Community service is a great way in which you can make a difference for the
good in your own community. I have volunteered in many different ways
for the past few years in my community, and have plans to volunteer
in even more different ways. Many of the ways I have volunteered is
though church and through taekwondo. I have spent several hundred
hours in both of these aspects throughout the past years.
Throughout the past years I have run sound and lights for my church. I have done
this for many plays for my church and sunday services. This comes
with great responsibility. Allot of the responsibilities are,
arriving on time, paying attention, and much more. The biggest
challenge I feel in this is to stay patient with the people I am
working with especially during plays. I have chosen to do this
because many people don't know how and there is a lack of people
that have the no how that are available. I have also worked on the
church grounds and cleaned the church building. All this I believe is
a great a great way to help my church, help serve and minister to my
community. It is so satisfying just to see the smile on people's
faces, and knowing you had a part in making that person smile.
I started my journey in Taekwondo three years ago. It has been a very
fun challenge. One thing I love about it is how they really push
helping out in the community, allot. In fact it is required to have a
certain amount of hours in community service to test for you black
belt. I have already started clocking in those hours. I have done
this in many different ways. One of the ways is helping out in lower
belt kid classes in Taekwondo every week. Many of the
responsibilities are working with kids and knowing what you are
trying to teach them. The biggest challenge is knowing how to work
with kids and keeping everything organized. This has helped me so
much in learning on how to work with kids. It is so satisfying
knowing you are teaching a life skill that can make the world just a
little bit better.
I feel that the things I have done are very forward looking, because
they will help people physically mentally and spiritually. Tho they
may seem small, If other people are doing other small things to help
out that we together can make a big difference. Volunteering I feel
will affect my future career in the fact that whatever I decide to do
that I will look for a way to go the extra mile. In the future I am
looking forward to looking back and seeing all the smiles on people.