Name: gabriel nehemiah chinn
From: atlanta, GA
Grade: 12th
School: kipp atlanta collegiate
Votes: 0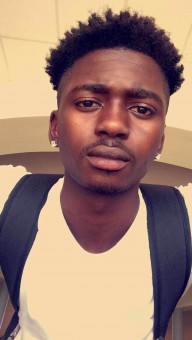 Gabriel
Chinn
8-29-16

Restitution
for destitute
We can all relate to the fact that our parents want the best for us and
that they give it their all. They take a big part in molding us into
successful adults for the near future,often leading by example and
making sacrifices. But living in today's society, not all parents
are capable of doing much for their kids. For example, some parents
are not able to provide shelter, clothes, food, money, or even toys.
Growing up, my family struggled a lot and for a single mother with
four kids and no job, it was hard to provide the common necessities
in my home today.
We could barely pay for utilities, clothes, food and transportation.
This is why I started volunteering at homeless shelters. I'm
disappointed in the economy we live in, which is a big factor in
putting families in these untamable situations. I chose this area to
put most of my energy and time into because growing up I didn't
have much and I realized, as I matured, that I'm not the only who
was in that situation, or worse. If I could give back to the
impoverished, I'd be making some families lives less of a hassle. I
have since volunteered over 250 hours of my time to give back to the
poverty-stricken families of my community for the past 3 years of
high school.
My responsibilities as a volunteer at Atlanta Mission: Shepherd's Inn
was to assist my church with helping serve the homeless meals, donate
clothes, and assist in distributing toiletries. My biggest challenge
as a volunteer is understanding that I cannot help every single
homeless person or family in the world. So instead I aim assist as
many of the homeless in my city as I possibly can through food,
clothes, toys, and money fundraising. Seeing the smiles on the
people's faces has given me the most satisfaction as a volunteer
because that means I am doing my part in making a difference. I've
learned that no matter what limitations I may have in life, I am
always able to have a positive impact on another and that could be
life changing.
My interest and career goals correlate with my volunteer focus because
to become a corporate investment banker, I have to stay focused,
prioritize and make decisions that benefit everyone, not just myself.
If I cannot lead by example nor give back to my society, then
everything I accomplish will hold less meaning. "Forward looking"
to me means favoring new methods and developments that are long term
progressive. The change I seek in the world is more people giving
back to destitute families. I believe that my volunteer activities
will make a difference over time because the people I've helped
will hopefully feel the same way I did and help those in need just as I did.