Name: Isabele Magbanua
From: Carson, CA
Grade: 12
School: Academy of Medical Arts at Carson
Votes: 0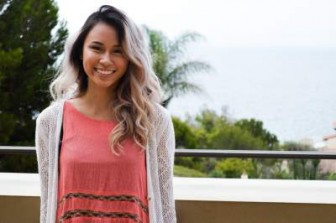 Isabele
Magbanua
September
7, 2016
Youth
Forward Scholarship Essay
Rise
by Lifting Others
Growing up, it has always been a goal of mine to uncover what kind of person I was born to be. Despite what seemed like an incredibly tough time for identifying who I truly was as an individual, I discovered the great deal of pleasure which amounted from spreading positivity and shedding light onto several aspects of my community.
While enrolling in the Academy of Medical Arts at Carson Complex, I foundan opportunity to volunteer at an elderly nursing home in my community. Every Wednesday and Friday after-school, my classmates and I were transported on a bus to our local nursing home. Our class did this for a whole year, and in this particular period, I had learned so many skills and lessons that I am able to apply to not only my future goals.
As a volunteer, my responsibility was to provide the patients with their daily meals, and then plan out recreational activities in order to
boost their moods. My classmates and I normally played a popular song of their decade and danced along with it, which occasionally made them smile or want to dance along with us.
The most challenging aspect of my experience was having to see the patients who were unfortunately stricken with life-changing diseases, such as Alzheimer's and dementia. I felt an ache in my heart when I had grown a close bond with one of the patients, and as I went to retrieve their lunch meal for the day, they had no recollection of me or the conversation we just had.
The most satisfactory moment for me was when my peers and I would perform in front of the patients. They would all burst in laughter that would echo throughout the recreational room. Seeing such a positive outcome reminded why I loved volunteering for my community and it pushed me closer to the realization of who I was determined to be.
Looking towards my future, I definitely see this aspect of my life to be one of the reasons as to why I have chosen to become a doctor. This has helped me progress and develop into a brighter person, a factor that I will always be thankful for. My primary goal in life is to help others the way I have been supported throughout my life, and volunteering in a nursing home has given me that aspiration for my future.

In the years to come, I know for a fact that this nursing home will be known as the starting point of my medical interest. It has helped me to apprehend that not only do I have a passion for aiding others, but it has also paved for me a pathway that I would never have gotten to on my own.
I hope that with the possibility of this scholarship money, I will be able to further my education and dreams of giving back to my
community and the world, even, whilst making a difference one step at a time.