Name: Alexandra Mattei
From: Macedonia, OH
Grade: 12
School: Nordonia High School
Votes: 285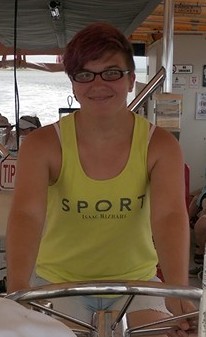 SAVING
ANIMALS IN NEED
I have been committed to volunteering with dogs and cats in need through working with Paws and Prayers Animal Shelter, a 501c3, for the past five years. Over these five years my responsibilities have changed and grown as I have gotten older. Initially my family became foster parents for various dogs ranging from litters of four week old puppies to senior dogs recovering from health issues. We have had dogs ranging in size from a 4 lb Toy Fox Terrier to a 104 lb English Mastiff/Lab mix. In five years we have had over 120 foster dogs.
Once I was old enough I became a volunteer dog holder at adoption events on Saturdays. This involved holding foster dogs for other foster families, discussing the dog's personality traits with potential adopters and helping the dog find its forever family. I also created a skit to be performed by volunteers at a fundraiser in the fall of 2015. I wrote the script, and recruited the volunteer "actors" and assisted in creation of props.
Beginning in November, 2015 I was assigned the task of creating, filming, editing and monitoring the Paws and Prayers Youtube channel. I create ideas for episodes, write scripts as necessary, film the episode and edit it before uploading to youtube. The first video went live in February 2016 and to date we have 10 episodes, 22 subscribers and our most recent video has over 80 views.
The biggest challenge in my volunteering has been both seeing how some humans can treat animals so poorly and act like they are disposable. My biggest satisfaction has come from rehabilitating these animals in need and finding them their forever home. Watching them walk out with their new families and the love and excitement on the family's faces and on the dog's face makes everything else worthwhile. Another thing that brings great satisfaction to my volunteer work is seeing the dogs come back for alumni day and seeing how happy and healthy and well cared for they are. An example of our most recent alumni day can be found at https://www.youtube.com/watch?v=x_vI5YdTXFQ.

I have learned quite a bit during my volunteer experience. I have learned a lot about dog training and behavior techniques. I have learned several dog health tips and I've learned that sometimes the best way to show you love someone or something is to let them go so you can help the next animal in need.