Name: Michael Allen Chase
From: Winchester, Virginia
Grade: 10th
School: Millbrook High School
Votes: 0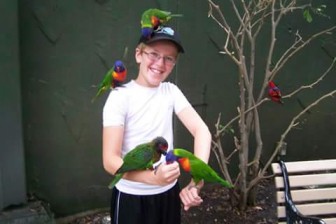 I love to volunteer in the field of exotic animal caregiving, I chose
to to volunteer in this field because I love animals and it is the
field that I would like to eventually work in. Over the summer and
during small portions in the winter I am part of the caregiving team
at the Suncoast Primate Sanctuary in Palm Harbor, Florida. Over a
month long period during the summer I volunteer for around 150 hours.
While volunteering, depending on what section I am responsible for on
that day, I am responsible for feeding and interacting with, along
with cleaning the enclosures of Chimpanzees and Orangutans along with
multiple species of small primates including; Capuchins, Macaques,
Lemurs, and Baboons. I am also responsible for preparing food for the
animals in my section. While i am not cleaning or feeding I am able
to talk to visitors and answer their questions about the animals.
          The biggest challenge I have faced as a volunteer is having a packed day
and trying to balance all aspects of the position, the day is nonstop
and you always have to be on your feet doing something. It is hard to
be able to manage time properly and adjust to happenings such as the
weather and animal's mood. The greatest satisfaction I receive from
volunteering here is knowing that I am helping these animals receive
a better life as they are all rescues from zoo shut downs, laboratory
abuse, and illegal pet trade. I also love seeing how much the
families that visit love the animals and the environment of the
sanctuary. I have a lot from this volunteer position, I have learned
about how to care for exotic animals in captivity, how to communicate
with members of team, and how to talk with different types of people.
The education and experience I have recieved on how to prepare food
and care for primates is beyond the measure of what I could ever have
received from an online class or video.
          My volunteering experiences are very "forward looking" as I am doing
now what I have always dreamed of doing once I graduate from college.
This experience will be very beneficial for me in the future. Not
only is my volunteering "forward looking" for me but I am
teaching families and children about the importance of volunteering
at nonprofit organizations and the importance we should put on
wildlife conservation. I believe that my volunteering is teaching
young children why animal sanctuaries like this and offering your
time is important for our culture and society. I hope to lead my
generation in a new wave of animal conservation to preserve the
amazing species that call earth home. I hope to educate people and
help create a bloom in conservation efforts and change the way that
people look at the natural world around them. I hope to look back and
see that this experience is what jump started my amazing career in
wildlife conservation.