Name: Michael Cowart
From: Kennett Square, PA
Grade: 11
School: Unionville High School
Votes: 0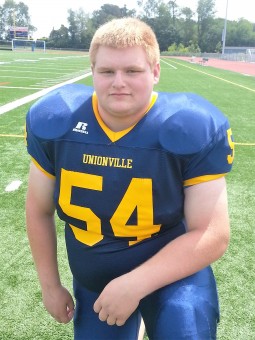 My volunteering philosophy is "see a need, fill a need". I enjoy lending a helping hand. No matter what I do, I like my efforts to be "forward looking". To me, forward looking means that what I am doing today has a positive impact on the future. I especially like to volunteer for things that have a forward looking impact on children's lives.
This past year my greatest accomplishment was spending 319 hours designing and creating six custom tables and benches for Willowdale Chapel's Clubhouse, an elementary outreach. Knowing this furniture is used daily by over 250
children is very rewarding to me.
This spring I rounded up my football teammates and co-lead the high school book fair. I spent 25 hours volunteering. Also in the spring I volunteered for our football team's mulching outreach. I spend 10 hours leading the effort, and 25 hours laboring.
Wipeout Camp takes place over three weeks in the summer and is completely run by volunteers. I like to serve as a camp counselor. Counseling requires a 30 hour weekly volunteer commitment for three weeks. Wipeout Camp brings joy
to the kids and teaches sportsmanship.
Fall begins Leadership in Networking Kid's (LINK) service projects. I co-lead collecting and delivering can goods for the Kennett Cupboard which takes about 25 hours. I also volunteer at The Kennett Co-op preschool's bi-annual
consignment sale which raises money for preschool scholarships. I volunteer 10 hours, twice a year. An example of forward looking volunteerism can be seen in the results of these volunteering efforts. The sale has provided scholarships for 80 children to attend preschool to receive a head start on their elementary education. These same children receive meals at the food cupboard, and clothing and books from local non-profits. The community cares for and loves these children through various local volunteering efforts. In thirty years, those children will be our leaders. My volunteering today, can greatly impact the lives of tomorrow's leaders. That is "forward looking" volunteering to me.
During Christmas break I volunteer to clean toys, paint walls, and clean carpets at church with youth group. I volunteer 30 hours. Over the years I have developed "volunteer eyes" that have taught me to always be looking for ways to help. There is great satisfaction in seeing a need, like toy cleaning, and then filling it.
My greatest challenge as a young volunteer has been coordinating transportation for myself as well as my co-volunteers. Fortunately, that challenge has eased now that I can drive.
Recently my volunteering has turned to aiding others in a different way. I work as a part-time mechanic after school, and have access to a shop. Therefore, I am now able to design and build custom wood and metal projects. I am looking to help others by using my new skill sets. My greatest desire is to become an engineer and work on volunteer projects that
utilize engineering. I would like to invent things that enhance people's lives world-wide.