Name: Steven Errico
From: Nolensville, TN
Grade: 12
School: Homeschool
Votes: 0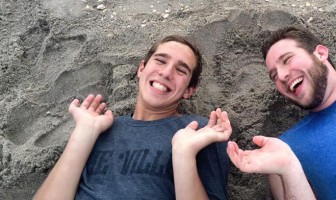 You'll never quite know what it's like to lose control until you've been
in charge of young children. In my time volunteering at Horton Haven
Christian Camp, there's never been a shortage of whiny kids, dirty
dishes, and bathrooms to clean, but that's not what matters. What
matters is the fact that I have the opportunity to make a difference
in the lives of so many people, and the fact that all of those
people, campers and staff, have continued to make a difference in
mine.
It isn't easy. Most mornings at camp I wake up tired, having to down
my fair share of coffee to stay awake. But it isn't the coffee that
keeps me going; it's the friends I have around me serving alongside
me and encouraging me. So even if I get worn out, I've always known
I could count on the staff around me to be there for me and always
have my back when I needed help.
One of the most satisfying experiences while serving at camp started,
surprisingly, with a kid who was always mean to the staff. The
hardest thing to do when someone is mean to you is to be kind back,
but I had to try. I tried acting like a friend to him instead of
ordering him around. What I found was that if, for one moment, I
treated him like he really mattered, he started being kind back. I
instantly saw the change in the way he treated me when I started
showing him by my actions that I cared. It was really satisfying to
see the kind of difference I could make just by showing a little
compassion.
However, the most challenging part of working at camp didn't involve kids at
all. Doing dishes and cleaning bathrooms aren't always the most fun
things to do. It's easy to look at what I'm doing and tell myself
that I'm not even helping change the campers' lives by doing
this, that I'm not making a difference. But the truth is, the staff
with the campers couldn't even do anything if they didn't have
clean showers and bathrooms to use and food to eat on clean dishes at
every meal. I learned that even if I'm not in the spotlight with
the campers, everything I do to help makes a difference. I think
that's true in all of life, not just at camp.

Looking at the work I've done at camp and the work that is still to be done
gives me hope. Even now I don't know the extent of the impact I've
had on all of the kids I've encountered so far, but I know it's
there. And as I look forward to see what the future holds, I
anxiously await the day when, years from now, campers that I once led
come back, not as campers, but to serve alongside us because of the
impact that camp, that God, and that all of us had on them.