Name: Elvira Manzyuk
From: Fair Oaks, California
Grade: elviramanzyuk@gmail.com
School: elviramanzyuk@gmail.com
Votes: 0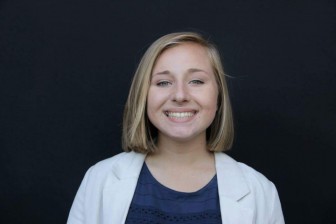 Elvira
Manz
Serving
in Children's Ministry through Music
Growing
up in the Russian/Ukrainian Slavic community, I was always in church.
Going to church in such a tight-knit community gave me the
opportunity to gain confidence and develop the leadership skills I
would need to succeed. I was an active and leading participant in a
kids worship team. Later, as times changed and my friends and I grew
up, the Revival Kid's Worship Team no longer existed. Knowing
that the musically gifted kids in my church were not receiving any
leadership or guidance, was unsettling. They were bored in the old
fashioned kids choir that I dreaded attending as a kid. I saw
this issue as an opportunity to make a difference at my church and
use my leadership skills. With some planning and the help of my close
friend, Melany, we started our own vocal class for kids ages 7-13 in
August of 2014. Together, with the support of parents, Melany and I
have created a remarkable, program for them.
Our
goal was to give the underserved kids in our community what we had, a
place to express ourselves and work together to create using our
talents. At our first practice in August, the kids silently listened,
impatiently wiggling in their seats as I explained what my partner
and I expected of them. We expected their best willing attitude, and
their all, their absolute best. Talent needs guidance, talent needs
to be challenged, talent needs to be heard. In the next 6 months
since August, we began to see this remarkable group of kids grow,
mature, and become the leaders they were born to be. We
taught them harmony on the first day. Every month we took the stage
and performed with everything we had. The community was blown away
how two 15 year old girls managed to turn these kids into disciplined
artists.
The
artists were always there, someone just needed to see them and take
the lead. My partner and I spent two hours with them a week. The
biggest issue Melany and I encountered was the pride and hindering
insecurities of a few students. When we began, they could not work
together, each of them was trying too hard to prove themselves
individually. We took some time off of the music and focused on
establishing relationships. We picked exercises in which they
absolutely needed each other to execute the assignments. Soon, they
learned this was a team effort. They needed each other, and we saw
them beginning to treat each other with respect.
Our
goal was to give the underserved kids in our community what we had, a
place to express ourselves and work together to create and use our
talents. This new and improved Revival Kid's Worship Team became
something more. They did not recreate the old Revival Kid's Worship
Team, they reinvented it. Never had I seen such a motivated and
focused group of kids. All along they were right there in front of
me, looking for someone to listen and lead.