Name: Afreen Ahmed
From: Chicago, IL
Grade: College freshman
School: University of Chicago
Votes: 0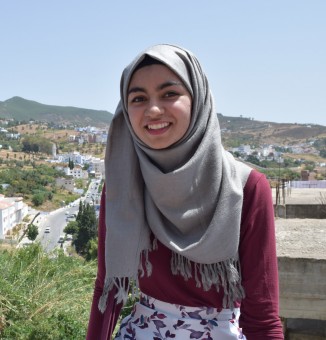 Afreen
Ahmed
Youth
Forward Scholarship
As a first year student at the University of Chicago, I became a research assistant for the Thirty Million Words Initiative, a project started in response to the literacy disparity between children of low and high income households on the South Side of Chicago. For 10 hours a week, I contribute to data collection and the development of parental training resources. Cognitive development is affected by the things a child hears and sees as soon as they are born, and we provide parents with the knowledge and materials to build their children's mental skills, contributing to putting them at the same success level as their peers from higher income households. In addition, I am a Health Policy Scholar at the university, which allows me to explore health disparities in the surrounding communities, learn about policies that shape life quality, and show others the importance of cultural competency in
healthcare.
On campus, I serve on the advisory board of Leaders of Color, a subset of the Institute of Politics. My role is to encourage political participation by students of color on campus who don't feel comfortable in a domain that has long been restricted to people with privilege. By developing leadership training workshops, engaging Black, Asian, Hispanic, Arab, and other minority students, and inviting influential speakers of color, this group engages more students of color into public service and leadership careers. This role complements another that I am also a part of: as the president of the Lake County Chapter of SSU, a nonprofit youth group that centers leadership training, community engagement, and relief efforts for young Muslim women, I draw on my experiences from both groups to improve each other. Marginalized youth rarely have voices in their communities or their schools, and these groups reclaim our narratives and allow young people of color and young Muslim women to develop their confidence and contribute to their communities.
This summer, I traveled abroad to expand my perspective and learn about the methods of political engagement and women's rights abroad. I lived in Rabat, Morocco from June to September volunteering at L'Association Démocratique des Femmes du Maroc, a women's rights NGO. This organization is an autonomic partner of the Women's Learning Partnership that builds movements towards cultural and legal equality in the developing world. This was undoubtedly the most significant service experience I have ever had: I served as a translator for women who had been denied their rights by loopholes in the 2011 constitutional reforms and sought help from civil rights organizations. It allowed me to learn that there are multiple ways to
approach reform and that the most important lesson in intersectional solidarity work is to trust the community to know what they need. And by learning that it is sometimes best to step back and listen, it allowed me to become better at serving others even within my own communities and to understand that everyone's liberation is intertwined.