Name: Hannah Engel
From: Boca Raton, FL
Grade: High School Sophomore
School: Boca Raton Community High School
Votes: 111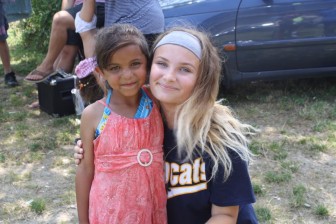 Youth
Forward Scholarship

Volunteering is a huge passion
of mine. I love volunteering so much that it has brought me to
Croatia two years in a row. My passion for volunteer work started in
my 6th grade year. Through my church, there was a volunteer opportunity
called "Foster parent night out." This is where parents of foster
children drop their children off with our group so they can have a
date night or simply a night off. Now I am in my junior year of high
school and I still go almost every month to play and watch over these
kids. I've grown bonds with them over the years and learned to love
them, no matter how crazy they can be. I also help my church out
with other volunteer events such as being on cleanup crew at Delray
Beaches Garlic fest and Bacon/Bourbon fest. Now let me take you back
to my freshman year of high school. While I was trying to open my
locker, a girl by the name of Victoria passed by me, I asked her for
help with my locker, she agreed and then this act of kindness lead to
a full-blown conversation about clubs at our school. She told me
about a club called Project Life, which peaked my interest. Project
life is a missions group that shares the love of God in our school,
in our community and in the world. During the summer, there is a
19-day missions trip where we go to Roma villages, which are
extremely poor and are shunned by the Croatian people and government,
and share the gospel with the kids in the villages, and mostly just
love on them. Back to now, I am currently one of the Presidents of
the club and am planning to stay the whole summer this upcoming year.
I have completely fallen in love with this mission and all that it
stands for. I am hungry to help these villages by providing them with
hope and love that they are unfortunately missed out on through their
living situations. The kids in these villages have my heart and one
so much that I am now her sponsor. One of my biggest challenges with
volunteering is the fundraising for our group as a whole. Setting up
car wash dates is a hassle and simply getting different fundraising
ideas approved by our school could cause a roadblock. Lucky, with new
students joining our club each year, new creative ideas for
fundraising come with them. The most satisfaction from volunteering
is seeing the smiles on the kid's faces when we show up to these
villages. Even though there is a language barrier, the love that
these kids have immeasurable. Kids that I don't even know will come
up to me and give me the tightest hug and say 'Volim te' which
means, "I love you." What I have learned through my years of
volunteering is that it changes your life.