Name: Bailee Eichelberger
From: San Antonio, Texas
Grade: 10
School: William Howard Taft High School
Votes: 0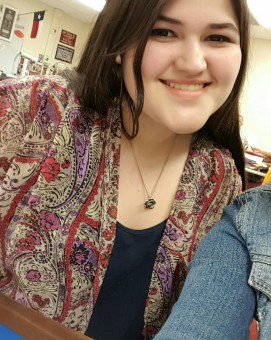 Special
Needs Appreciation
The focus of my life has been filled with the need to help people. I have directed the majority of my volunteer efforts to the special needs students in my community this past year. At my school, I am one of the chosen few that have a class period dedicated to giving the special needs students a fun high school experience. A small part of what we do includes celebrating every ALE student's (assisted learning experience) birthday, cheering and helping our Special Olympics participants, spending time with the ALE students during lunches, as well as participating with some outside of school. My class is constantly a whirlwind of making birthday cards, forming birthday gifts, researching the favorite subjects our student's hobbies, and organizing new ways to surprise our students and keep them looking forward to school. I cannot express the complete and utter joy that has been brought into my life by being in this class and helping the special needs students. It's the most fulfilling thing I have done in my life, and I can't imagine life without it.

I cannot go a day without thinking of my friends in ALE and smiling. I keep in contact with some that have access to a phone, often having hour long conversations after school with my friend Jayden over his love for Wrestlemania, or learning more about Rayla's love for Five Seconds of Summer through text. I still can't believe volunteer work; it feels too self-beneficial to be so. Nevertheless, the reason I "volunteer" is to make people happy and help them. I am proud to say I work hard every day to make sure I complete these tasks day in and day out.
My other focus is to spread awareness of the special needs population. I don't believe that a person can fully feel the struggles that
special needs people face until they see it firsthand. The word "normal" feels like a dirty word. It puts a bad taste in my mouth
because of the connotations it is connected with. I can't express the emotional heartache I felt the first time I heard a group of ALE
students talking about wanting to be "normal". These students are a gift to society, and hearing that hurt my heart. The biggest lesson
I have learned in my volunteer experience is that "normal" is awful. When special needs student wishes to be normal, it is
understood that they say it out of solitude. Normal is a broken ideal that excludes people from being themselves, and my goal is to change that. I have told speeches upon speeches upon how people assume normal is good, when it is the complete opposite. Normal is hurtful: the word normal damages students' self-esteem, and I work hard to teach my friends that they are beautiful the way they are. I do not plan on stopping my volunteer work until every ALE student in my community feels loved and accepted for the beautiful person they are.