Name: David Seamans
From: Lowell, Massachusetts
Grade: Junior
School: Lowell Catholic High School
Votes: 0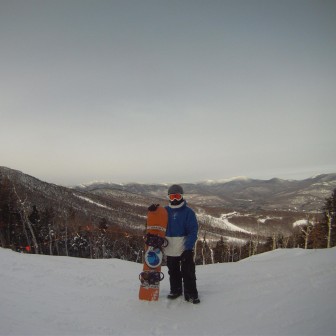 Sam has an extra chromosome which is defined as down syndrome. Abi has one less chromosome which is really rare to have. Growing up with both of them my whole life gave me a different look on everyone. You don't realize the struggles everyone goes through until you see it first hand. I love helping them with anything they need. They are both always told they are not able to do something, I do anything I can to help them achieve that goal.
One day, I wanted to help other people the way I helped them. I found an organization called Shooting Stars and started to volunteer . They are a special olympic ski and snowboard team. Not all of the participants are olympians but have special needs and wanted to snowboard. A lot of them are told by others they won't be able to, so it makes them want to do it even more. I got paired up with a guy named Justin. He had down syndrome just like my sister. It is very rare in males, but it happens. Justin and I were paired up two days a week for three hours at a time. We got pretty close and started talking more and more not just at the mountain but over the phone. I was one of his good friends after being with him for three years. But in those three years he had a lot of troubles.
Justin sometimes struggled with his snowboarding, but that was an easy fix for me. However, Justin also had troubles off the mountain. Once he got comfortable with me, we began talking the whole way up the chair lift and at the top and bottom. He told me how he knew he was different from everyone else. He said he didn't want to be different he wanted to be just like everyone else. He didn't want to be bullied any more. He didn't like going to school and walking down the halls with everyone staring at him. I tried so hard to give him the best advice I could, because I knew exactly how he felt. My sister would say the same thing to me, saying she hated going to school for the same reasons. I told Justin he just had to keep his head up and keep trying. He couldn't quit now after trying so hard to make it this
far. I pointed out that everyone told him he won't be able to snowboard, but he had accomplished that goal. He even started to snowboard competitively, and no one thought he would get that far. I told him to not try to fit in with everyone because that is not who
he is. He was the nicest person I have ever met and I told him to just be that.
I didn't want him to try to fit into society because he was perfect the way he was. I tried everything I possibly could have to show him
that. I tried everything to make his day better, gave him advice on everything. I did everything I could for him because I knew at home
how hard it is to deal with everything. I know the struggles of everything in life he has and will encounter. I helped him out as much as I could and I would do it a hundred more times to a hundred different people.
Helping my sisters and Justin led me to find my passion in helping others. I look forward to applying this love for helping others to community service as well as Civil Engineering and participate in Army Rotc by helping and leading others.