Name: Tonisha Taylor
From: vallejo , california
Grade: 11th
School: Jesse M. Bethel Highschool
Votes: 0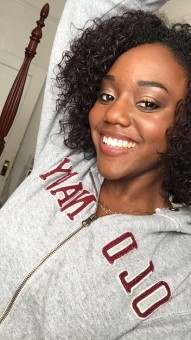 SPIRIT
OF GIVING
At a young age I began to volunteer at my church. I volunteered once a month by serving the people there on the free dinner Sundays. We participated in the service in our works clothes and at about 1 pm we go out into the dining hall to begin preparing to serve the people. We clean all the tables first and then begin to place the silverware
that will be used during the dinner on the table. We then have a meeting with the entire external kitchen operations (EKO) team going over the way we will serve the people and activities that our team will do and has done together. After the meeting we usually eat and clean up so we can be ready for when the others come in at about
3/3:30 pm. We then, in our own individual jobs, begin to serve the saints in a timely manner so that everyone will be fed as soon as possible.
I had no idea what to expect. The thought of serving over 500 people did not seem very exciting to me mostly because I felt it would be to much work or overwhelming. I was very nervous that I wouldn't do so well ad get the job done. There was a man who was new to the team and j was assigned to train him. I initially was very scared to do this but that's because I wasn't the easiest to train as a result of me not being willing to learn. This man was the complete opposite of how I was and showed me how to be willing to others and that opened my eyes completely. There were many complications but more victories and accomplishing feelings which made things easier and was more enthusiastic than I ever thought.

Every time I volunteered I tried to keep a. Dry open mind. It brought me to stepping out of my comfort zone and trying not to think about how I looked to my piers but why I was doing this. It became more than just me trying to have enough community service hours but it made me more humble. While serving I was constantly tested on my tolerance level and if I would keep going even when it got hard. The examples around me were why I wanted to excel. They served with pride and were much older so this was y just an assignment for them. I watched them and immediately knew what I wanted my attitude to be. Although I was working in a church I was very familiar and was serving people I knew mostly, not everyone was cooperative with being served. Working as a volunteer made me very appreciative of those who serve and also made me more aware of how I may act towards those who serve.

I really enjoyed the challenge and I got an abundance of unexpected skills. I found strong examples that I'm honored I was able to follow. This was a success because I gained so much from this experience. An experience I don't think could have been any more fulfilling.