Name: Kaitlyn Marie Holden
From: Goshen, Ohio
Grade: Juniro
School: Goshen High School
Votes: 421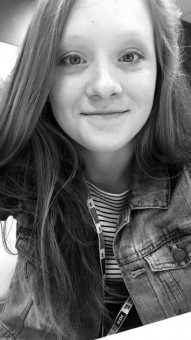 Youth
Forward Scholarship
Kaitlyn
MaRIE HOLDEN
I remember the day the Cardiac Clinical Director toured me in the
Cardiovascular Intensive Care Unit. I was just 15 years old. As we
were walking down the hallway, a team of nurses and doctors burst
through a door with an unresponsive elderly lady. In another room
where the lady had been rushed to awaits a team of health care
workers. I was fortunate enough to be invited into the room to watch
the process. They moved so quickly as they injected fluids, took
blood and performed Cardiopulmonary resuscitation (CPR). Watching the
team resuscitate the woman was my most inspiring moment that led me
to volunteer at the Christ Hospital in Cincinnati, Ohio. As I left
the room, I saw the woman's family sitting on the edge of their
seats anxiously. I hurried to grab a coffee cart so they could stay
close to their mother. A week went by and I had created a bond with
this family. I learned that it takes the simplest gesture to comfort
loved ones. This feeling engaged my passion to become a Cardio
Thoracic Surgeon. My responsibilities as a volunteer were to deliver
flowers and mail to patient's rooms. I also directed people around
the hospital and helped many to their car who had a wheel chair. I
began volunteering in the hospital in May of 2015 to August of 2016.
I ranged about twenty-five to twenty-eight hours a week. I would see
about thirty patients a day and worked with many different patients
who were challenged with diversity as well as physical and mental
challenges. I enjoyed taking my time with patients to better know how
to tend to them.
One of my favorite memories was visiting Mary Ellen each day to hear about
her stories of James, her sweetheart. I am a very passionate, driven
person when it comes to helping people. I once helped set up an event
for teens to encourage them to volunteer and educate them on how
important it is to spread kindness. This took lots of teamwork to
help show the new volunteers around the hospital. Throughout this, I
have learned to work under stress and with many different but
interesting people. I have also learned to care for patients with a
variety of different needs. My biggest challenge overall was
understanding diversity and the inner city culture; for example,
there were Spanish speaking patients. This encouraged me to do an
online elective Spanish class to better help them. The community
service accomplishment I am proudest of is setting up the FETCH
conference. This was for future medical students to get a closer look
at science. I helped the teachers and workers set up the tables and
instruments used.

In the end, working at my local hospital has been the best
experience. By leading tours and participating in special events I am
more comfortable starting conversations. I am proud I was able to
spread kindness across my community. I look forward to studying
medicine in college and continuing volunteering.